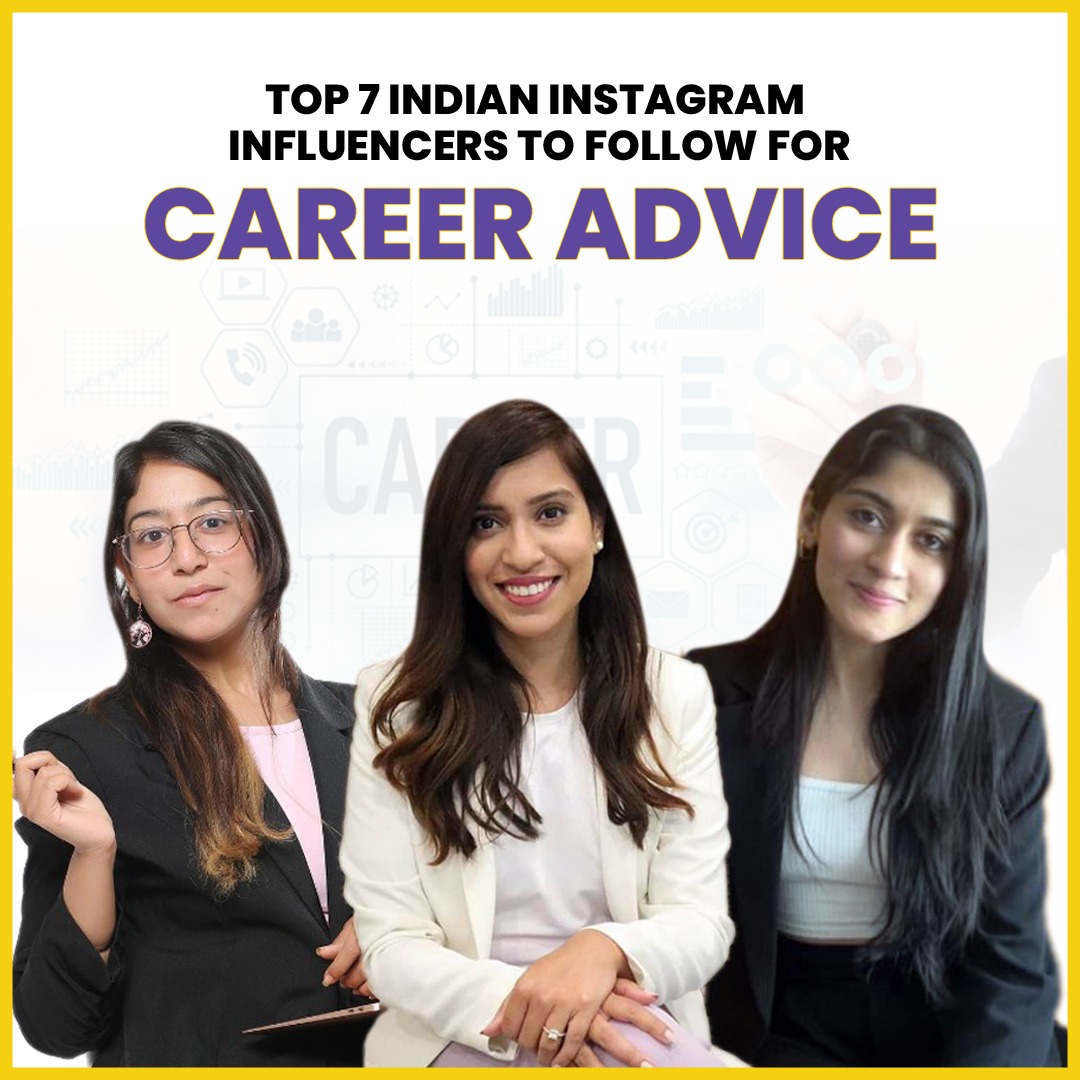 Top 7 Indian Instagram Influencers To Follow For Career Advice

Instagram is no more just a site for entertainment and jokes. It has now outstretched its dimensions and reached every nook and corner of the world. Be it cooking, cleaning, interior room designing, earning money by investing or starting up a business, you have experts from every field.

Nowadays Instagram influencer marketing is in an uproar, business tycoons and movie industries are seen hiring influencers from different niches for promotion purposes.

Making a career through Instagram is easy when taught by a professional. So don't worry buddies, you have them in here. Here we have tried our best to list the top 7 Indian Instagram Influencers who are famous for their valuable career advice. These people have learnt and established empires through their ups and downs. So why not just take a piece of advice from them?
This blog is going to be very fruitful for those who are confused due to their career choices. These 7 Instagram Influencers will give you the right guidance and help you pick the right choices.
Jump on this journey with us and don't forget to check out their amazing content. To know more details on how to grow your Instagram just check out 5 Solid Ways to Gain 10K IG Followers in 6 Months.
A name among the millions that have shined out to be one of the best organic growth connoisseurs in today's era. This content creator helps to crack problems of lead generation and social media marketing through her experience.
She is trained and certified by several professional certification courses on Udemy and Google and is continuing to do the same. A forever student who has opened up her classes on social media marketing.
Her newsletter named "crackthesocials" guarantees juicy tricks to fire your presence on Twitter, Instagram, and LinkedIn.
You can also find her on LinkedIn and Twitter with a massive audience base.
Another partner of the crackthesocials newsletter, Unnati Bagga is an organic growth specialist. Her reels and content are pure bliss for freelancers who started from scratch and rose to become a saviour for millions.
She has tips on personal branding, lead generation, brand awareness, and freelancing career choices. Bagga also appeared on the famous Ted Talks show.
Mehar is a constant hustler who has never learned to stop for the minimal. Her love to teach on social media platforms like Instagram and Youtube resulted in the creation of MSB Vision in 2019. Since then she has never looked back.
Her Bio speaks of being a career enhancer through real efforts and organic reach. A proficient speaker invited to more than 20 universities in India and outside and mentored 5000 + students.
Her expertise lies in dressing up the best for an appraisal season or any formal meeting, cold emailing, CV/resume building, social media marketing, and many more. There is something for everyone.
Miss Shreya Pattar will tell you how to make your first 10k$ just by online side hustle. She is an English Scholar from Dubai who teaches Freelancing and Writing to her followers.
Her passion for writing has led her to be an inspiration for thousands of her subscribers. A prolific content writer, ebook writer, and freelancer who knows how to print money as you like.
This Indian Girl also has several hobbies apart from writing like baking, playing badminton, playing the guitar, and singing. Her interest also leads her to try her hand at event management.
Miti Shah promises you that if you are a college-going student or freelancer at home, you can earn. It's just that you don't know what skills you have, but the opportunities are plenty. She can list out 50+ freelancing ideas you would have never imagined can help you earn money while at home.
A master spokesperson, student-friendly mentor and guide, and social media specialist offer 1 to 1 guidance on appointments.
Her business monk entertainment with 79.2 k followers has flourished in a few years due to her constant struggle and enforcement.
Also known as "The Faad Guy" in social media. We won't tell you why he is called by this name because it will be better if you just visit his profile and check out the same. We believe you will be surprised by the efforts of this 21-year-old boy who became a CEO at that age.
He is an eminent speaker and has spoken at 300 + events across 8+ countries on social media marketing strategies and organic growth. Being felicitated by awards like the Prestigious Parliamentary Meriotoious Award, United Nations Karamveer Chakra and many more, this young boy continues to grow.
He is the youngest Padma Shri Nominee and makes Startups fun with his hilarious jokes and facts.
Saif or The sustainability guy gives you knowledge of things you never thought were wrong? Have you heard of Plastic T-shirts? Are they Useful? Absolutely, not. Visit @thesustainabilityguy account if you want to know the reason behind it.
He has hacks for career, finance, and sustaining the mother environment. We love the way he helps us to save money on items where we can easily get scammed.
Sehaye helps you to collaborate with such influencers. Communication and collaboration becomes easy with Sehaye.
Conclusion
We hope these 7 Instagram influencers will aid you in making your life a better picture to show. They hail from different backgrounds but the motive is one. An earning member, a happy citizen.
Vavo Digital is a similar company with goals to help brands reach out to the ideal influencer and conduct good business. So if you are facing difficulty in finding one? Drop us an email at hello@vavodigital.com and we will lead you through the procedure.