How To Write A Great LinkedIn Headline?

Whatever is globally known, is on LinkedIn. If you are yet not digging for job opportunities on LinkedIn, then you are already quitting a big chunk behind. It is the hub of opinions, job prospects, building advancements, and expansion of experienced networks.

600 million people on LinkedIn have known the cruciality of maintaining a LinkedIn account but not all are thriving in it. Forming up an account is as effortless as picking up stones in the field. But levelling it up with good profile maintenance and a great LinkedIn headline is not yet fulfilled in every account.

So if you are a corporate manager, transaction head, or belong to a seat position in the industries, then a good silhouette on LinkedIn should be your concern. Here we will converse about how you can do it with real-life examples. Let's roll in.

You can also read How to become a LinkedIn influencer in 2023? If you want to put your hands on the creator journey.
Criteria for a Great LinkedIn Headline
Headlines are the gist of your whole profile. So they must be compelling the viewers to check your profile. Let's know what to add.
Use Audience Friendly Keywords
Know where your audience belongs and what they are interested in. For example, a fashion industry might be searching for a fashion blogger so write the same keywords. The other examples include fashion content creators, sales and marketing heads, wildlife photographers, and many such designations. This will help them search for your profile easily.
Keep it Simple and Jovial
Keeping it simple means avoiding hard bulky English words that are not very easily used in daily conversations. They might look fancy but most of your audience will refrain from reading that.
Add a pinch of humour so that the audience relates to it naturally.
For instance,
Copywriter: I can make you go viral with my words.
Travel Vlogger: Follow me. I can give you free rides to places while at home.
Avoid Boasting about Your Work
You can be hardworking, sincere, gifted, smart, dedicated, and loyal towards your work. But these words are often passed over by the readers. They want to see real-life examples. So just show what made you call yourself responsible by highlighting achievements in professional life.
Add a Compelling USP
A USP is like a tagline for yourself. Your USP should be completing your designation. It is a value-added proposition.
For instance, "Fashion Vlogger: Seeing the World through a Different Perspective"
Use Sehaye if you are searching for influencers who can help you promote your brand organically.
Examples of Great LinkedIn Headlines
It is a well-curated profile heading. The first part will tell you what he is currently engaged in. The second part is how he has contributed to people's lives. The last part is what he has to offer to the future generation of the world.
It's well written and brief to tell people the right thing they must know.
2. Allie Miller
Allie is crisp and short about her accomplishments and areas of interest. The lines are delivered straight to the point with a mention of the number of followers. It's sometimes appreciable to be called the most sought-after person on LinkedIn with an exact year of achievements.
3. Jen Selter
A social media influencer who correctly knows the importance of numbers. She gets straight to the point about her organic growth on social media grounds with few words to describe her profession.
4. Goldie Chan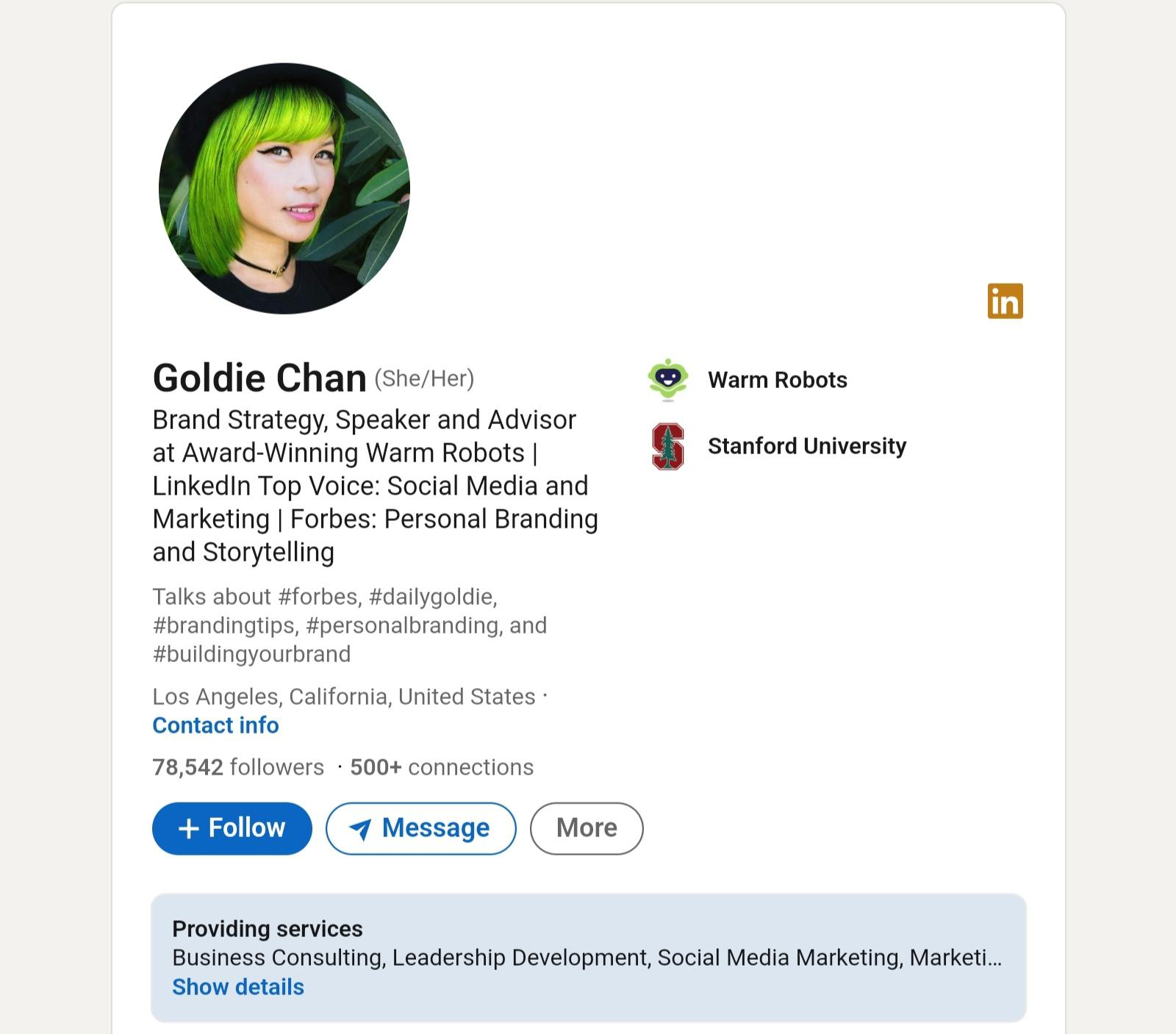 A leading voice on the grounds of LinkedIn. A prolific speaker in several places. She tells her audience about her interest in personal branding at Forbes and the places she has worked in.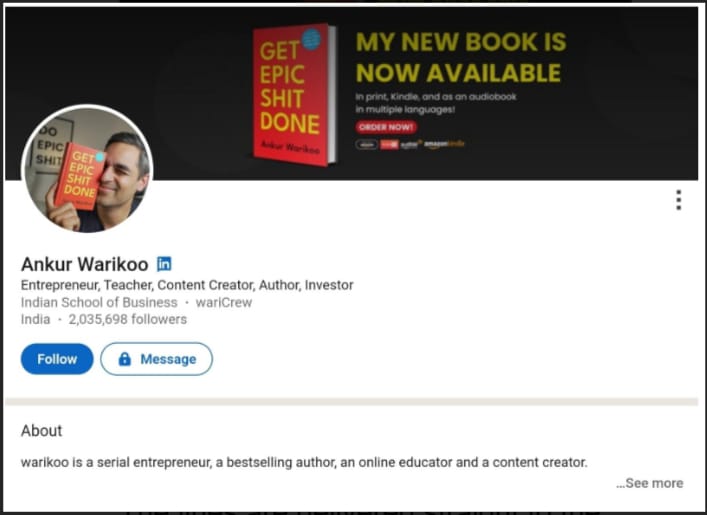 Warikoo is crisp and short about his accomplishments and areas of interest. The lines are delivered straight to the point with a mention of the number of professions he has touched into. It's appreciable to be known for your work and not just for followers.
Conclusion
LinkedIn is no longer a small platform. It is now a big baby playing hattricks in the market enterprise. So you need to make true efforts before it's too late. There is always room for Improvement. Start today by building an account on LinkedIn, hiring freelancers, selling products/services, and providing ads, all in a systematic manner.
LinkedIn headlines could be tricky but not finding the best influencer with Vavo Digital. Drop an email at hello@vavodigital.com to know things in detail.