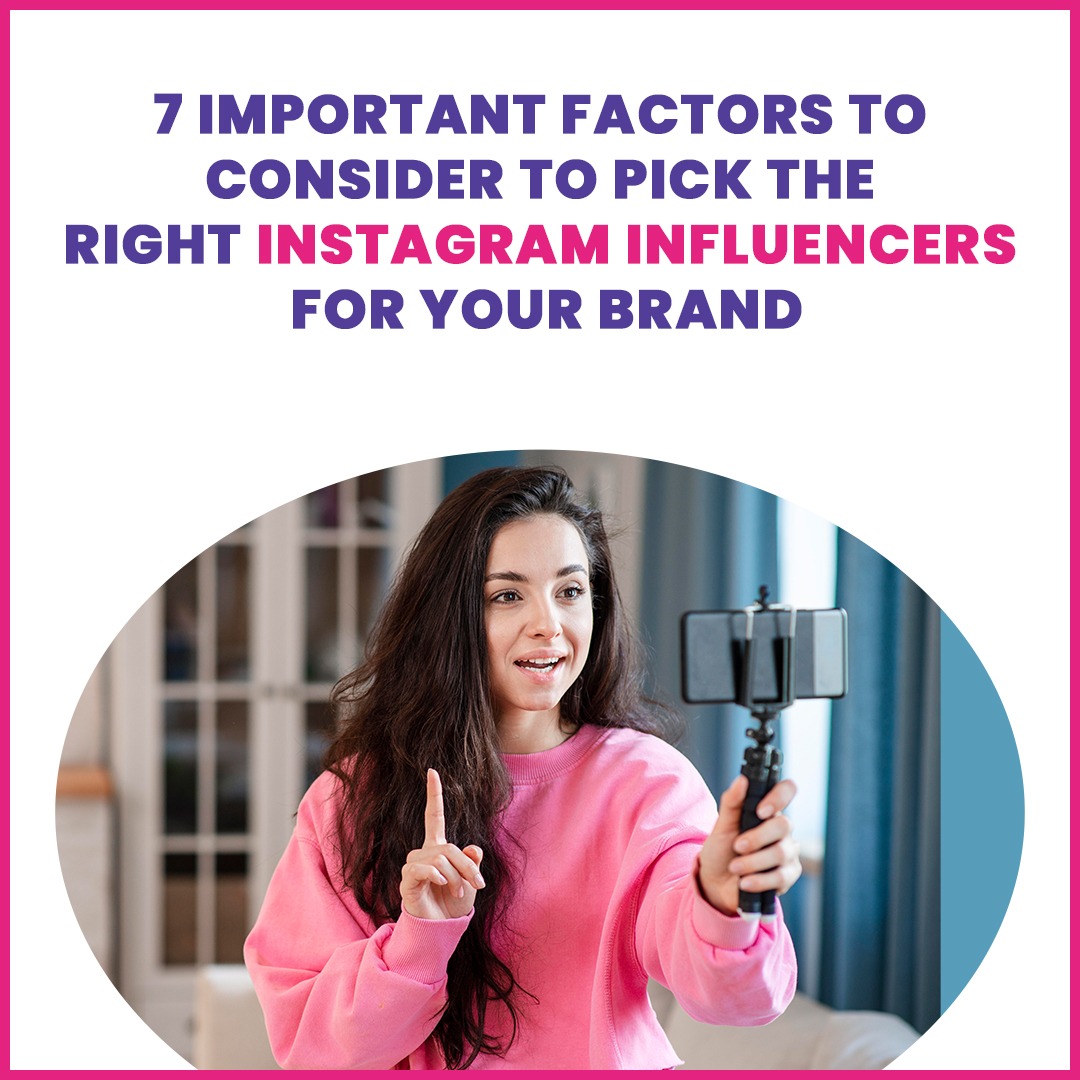 7 Important Factors To Consider To Pick The Right Instagram Influencers For Your Brand 

Influencer Marketing is the current trendy way to get your brand in front of a new set of audiences. Influencer Marketing when done at the right time with the right influencer can get you some amazing ROI!

Influencer Marketing does not just make the audience know about your product/services. It can also increase your following, get you more conversions, and help build a better connection with the audience.

Finding the right influencers for your brand can be a tedious job. So, to help you with it. Here's a list of tools that can help you collaborate with influencers for your next campaign! We have made a list of 7 factors that you should consider picking the right influencers for your brand.

But, before you dive into that let's first determine your end goal for this Marketing Campaign.

You first need to make sure what is it that you expect from this Influencer Marketing Campaign. Depending on what you are trying to accomplish, you can choose which influencer you would want to work with them, and who can help you achieve that.

You may want to achieve a variety of goals from this campaign which can include,
Brand Awareness
Content Creation
Leads
Sales
By setting up your campaign goal before looking out for influencers. You will have clarity of thought as to who can help you achieve these goals and who won't. Making it easier for you to pick the right influencer.
Here are 7 factors to consider when picking the right Instagram influencers for your brand:
1. Target Audience
One common mistake brands make is to look at the number of followers an influencer has. Well, the follower count is definitely an important aspect, but it's not the only criterion that you have to look at!
Even if the influencer has a few thousand followers, it's okay as long as the influencer's followers are your target audience!
2. Engagement Rate
This indicates the rate at which engagement happens between the influencer and the audience. Well, followers can even be bought at this time.
Just a few seconds into an influencer's account, you will notice if the comments on their post are made by a genuine audience or by some spammy account. An influencer who regularly engages with their audience over comments or DM is said to have a better connection than those who don't.
Also, you can use third-party tools like HypeAuditor to check engagement rates of your selected influencers.
3. Quality Content
You will find many types of content online. But find only a chunk of influencers who make quality content, not just based on what's trending.
If you want your campaign to get the best results for you, Then make sure you opt for an influencer who thinks out of the box and creates some really impressive content. After all, you want your brand's campaign to be unique and top-notch!
4. Frequency of Ads
Just scroll through an influencer's page and analyze how many ads or brand promotions they have on their page. While having a decent frequency is good. But, if every other piece of content on their page is an ad or brand promotion, that could not be a good sign.
5. Their Interests and Values
Every individual has their own interests and values. It's important to make sure that the interests/ values of the individual are incline with that of the brand. If they don't then that's a mismatch.
For example, Imagine you own a Fast-food Chain. You wouldn't want to get an influencer who talks about Fitness. It would be better if you contact a Food Blogger instead.
6. Reliability
While looking for an Influencer who's going to promote your brand online for you. You need to make sure that this influencer is a reliable person. You need to make sure they follow the guidelines, do as guided and deliver on time. Communication between the 2 parties is very important to have a good professional relationship.
7. Relevance
It's important to find influencers that are a good fit for your brand. When you scan influencers make sure to check their past work, their thoughts and other things. Just so that, The product they would be promoting would be relevant to them as well as their niche.
Conclusion
Influencer marketing is not just another way of selling your product. It's a way through which you help people understand your brand and your brand's vision. Influencer marketing is now one of the most effective ways for brands to reach their target audience! Here's a complete guide on how you can plan your Influencer Marketing Campaign Budget.
Vavo Digital, an Influencer Marketing agency, understands the potential of Indian influencers and also the needs of brands. We have a network of India's top influencers! We can help you connect with the right influencers at the right time.
Planning your next influencer marketing campaign? Contact us at hello@vavodigital.com and we shall get back to you!
Note: The image used in the blog is for descriptive purposes. Credit goes to the owner.