Best Times To Post On LinkedIn To Increase Your Engagement In 2023

Your postings at the right time on LinkedIn can give your content a head start and help it perform better in the long run. But what's the best time to post to ensure it gets seen? And which day of the week is best for engagement? These are important questions to think about, as they can greatly affect the success of your post on LinkedIn.

Just as each brand has its own individual identity, its audience is unique, too, implying that the ideal posting time can vary. Nonetheless, there are certain times that have proven to be effective universally. Keep your eyes glued to the screen as we reveal the prime posting times on LinkedIn, and uncover how you can determine the optimal time for your brand without the need for complicated data analysis.

However, if you are looking for the best LinkedIn strategies for your business, then the "5 successful LinkedIn B2B marketing strategies to follow in 2023" are waiting for you to read.
Universal Best Time To Post On LinkedIn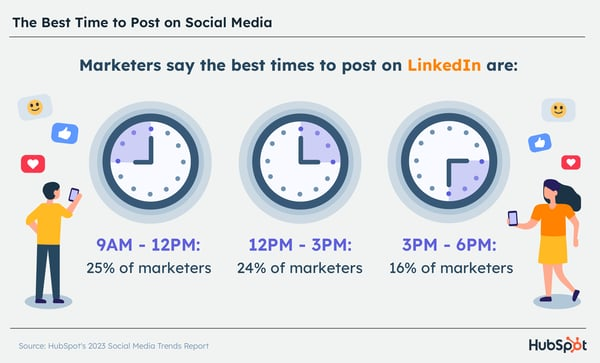 Based on the insights gained from research, it appears that the sweet spot for sharing content on LinkedIn is early in the morning or at lunch, as these times have been shown to generate the highest level of engagement across the board. Conversely, weekends are not the best days to post, as the level of engagement is typically lower, presumably because people perceive LinkedIn as a platform for professional interactions and tend to avoid it during their free time.
If you're looking to increase your presence on LinkedIn by posting more frequently, it's crucial to understand the optimal times to do so for the greatest impact. Fortunately, the social media gurus have done the heavy lifting and put together a useful breakdown of when to post throughout the week. Take a peek at their insightful findings below and elevate your LinkedIn game to the next level.
Best time to post on Monday
To make the most of your LinkedIn presence, it's important to post at the right times. And when it comes to Mondays, research suggests that 11:00 AM is the optimal time to do so. This is because people typically begin the week by tackling their core work tasks first and then shift gears to online networking between mid-morning and lunchtime.
Best time to post on Tuesday
According to research, the optimal time range for posting on Tuesday is between 6:00 and 8:00 AM. During this timeframe, people are typically in the midst of their morning routines, sipping coffee and scrolling through their social media feeds, including LinkedIn.
Best time to post on Wednesday
If you're aiming to optimize your LinkedIn presence on Wednesdays, you'll want to pay attention to the lunch hour. Research suggests that 12:00 PM is the optimal time to post on this day, as many professionals use their midday break to catch up on industry news and network with colleagues.
Best time to post on Thursday
Thursday afternoons are the sweet spot for LinkedIn engagement, with 2:00 PM being the ideal time to post. Research shows that, unlike other days of the week, Thursday sees the highest levels of engagement in the early afternoon.
Best time to post on Friday
The best time to post on Friday is 8:00 AM before most professionals start their workday. This early-morning window is a prime time to catch your audience's attention on this day and generate meaningful interactions, as people tend to check LinkedIn earlier on Friday.
Best time to post on Saturday
Although Saturdays tend to be a slow day for LinkedIn engagement, you can still capture your target audience's attention by posting at the right time. Research suggests that the sweet spot for Saturday posting is between 4:00-5:00 AM, when early-rising professionals may check the app before diving into their weekend plans.
Best time to post on Sunday
If you're looking to make an impact on LinkedIn on a lazy Sunday, the timing of your post is critical. Research suggested that the optimal time to post on LinkedIn on a Sunday is 6:00 AM, when early risers may check the app before getting on with their day.
Disclaimer; Please be mindful that the times shown above are based on the Pacific Time Zone in the United States. To avoid confusing your audience, who may be in a different time zone, you may need to modify the timing.
In a Nutshell
Mastering the art of timing is crucial if you want to increase engagement on LinkedIn through your postings. By understanding the optimal times to post throughout the week, you can maximize your content's reach and impact. So, whether it's early morning coffee or a midday break, take advantage of these prime posting times and let your creativity shine.
Vavo Digital, an influencer marketing agency in India, understands the importance of utilizing LinkedIn to market your brand or business. Get in touch with us at hello@vavodigital.com to explore how we can support your growth.