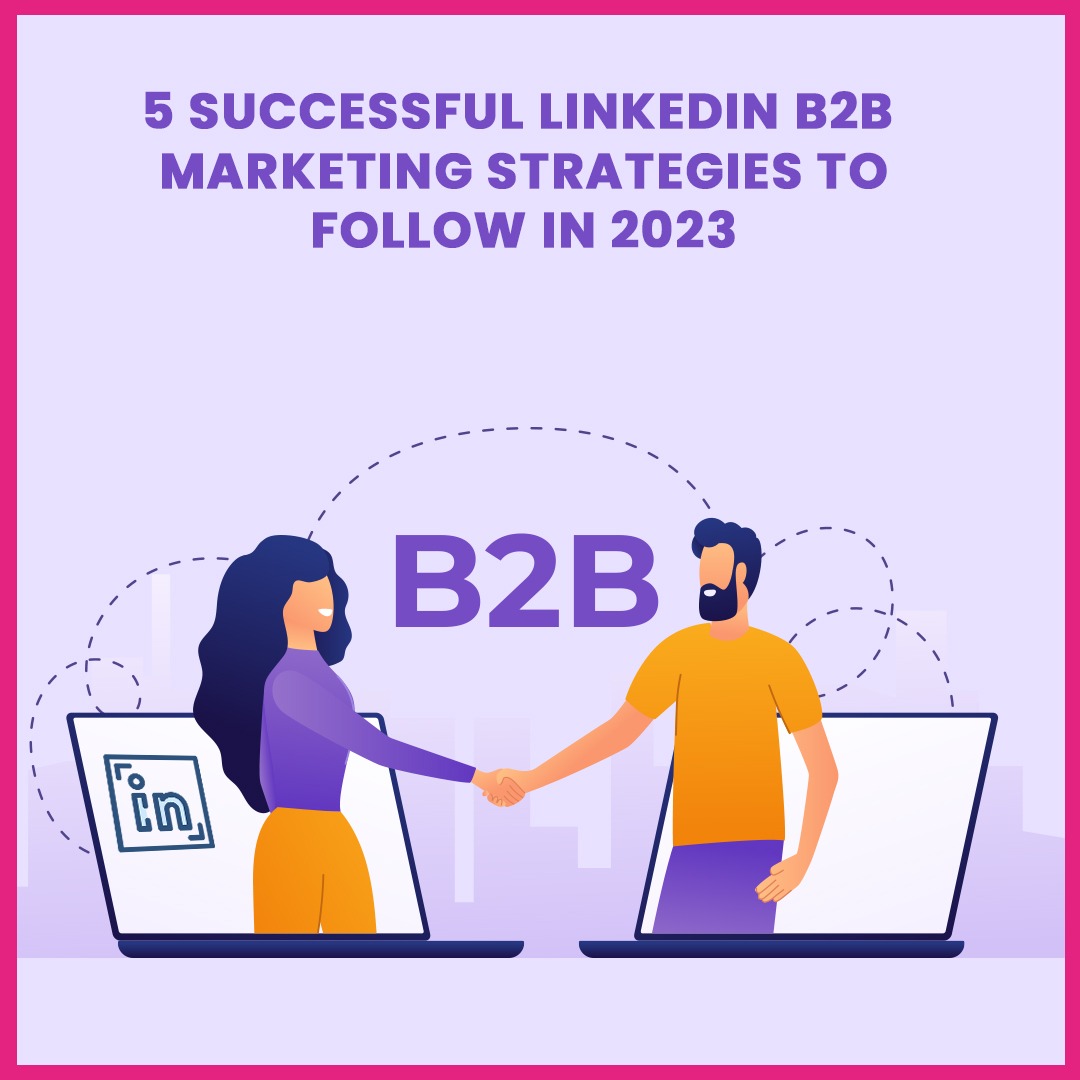 5 successful LinkedIn B2B marketing strategies to follow in 2023

B2B brands are going to make huge gains in 2023. B2B brands can enhance their business approach with the help of LinkedIn. You can explore a wide range of LinkedIn B2B marketing strategies to implement during this pursuit. Wait, did you know that LinkedIn makes about 80% of total B2B leads? Amazing right?

B2B brands are inevitable for the economic future of any country. However, what makes B2B brands stabilize themselves in all circumstances whatsoever? Well, it's quite simple. A successful B2B marketing strategy includes a striking skillset, tons of creativity, and ROI.
If you are a brand that needs to improve its performance on LinkedIn, we are giving you 5 successful LinkedIn B2B marketing strategies to follow in 2023!
1. Start selling promises
Yes, you heard it right. B2B marketing hugely predicates selling promises your products make to your audience. For instance, if you sell car parts, you need to sell their promise of remaining durable for the next 5 years instead of boasting about their features like premium quality material and structure.
In 2023, product mindset will be diminished and promise mindset will raise the bar higher for all the B2B competitors.
2. Know what people need
The heart of every business is its customers. If you fail to understand people's needs being a brand, your success would be hard to get. So make sure you deeply know about your customer's demands and if your product has the ability to fulfill those needs as well.
It will help you have a clear approach to how to proceed with things further. You can amend your LinkedIn strategy as per the demographics you collect too.
3. Make the commitment enduring.
B2B marketers are always in a hustle to secure a soft corner in the hearts of their audience. Your claims and promises must stick to your people. The best way for it is to use storytelling.
We all love stories and so do your customers. Include your promises into a story and share it online. It will make your customers choose you over your competitors when it will come to purchasing your product.
Allowing you to grow your brand's organic following on LinkedIn which will enhance your leads as well.
4. Be creative and human
These both are the hidden attributes of B2B marketing. Whatever you do make sure it fosters a deep connection with your customers. It is one of the excellent strategies that can make you see visible results on LinkedIn.
Bring out creativity and stand unique among your competitors. Also, focus on humanizing your content which will boost engagement by emphasizing relatability with your customers.
5. Measure LinkedIn Analytics
Source: Hootsuite
You can go really far with this simple hack. LinkedIn shows extensive analytics for B2B brands. Once you start collecting these analytics, you can set a direction for yourself to move forward.
Also, analytics tell you how many people are showing interest in you and what fields they are related to. Make sure to measure LinkedIn analytics and adhere to them in the long run to guarantee your success.
To Recapitulate
B2B brands can totally rely on LinkedIn B2B marketing strategies this year. There have been several B2B brands that secured their future on LinkedIn by leveraging its full potential. If you want to be on that list, you can make use of the aforementioned tips and the results will be beyond expected!
Vavo Digital, one of the leading influencer marketing agencies offers LinkedIn marketing tips for brands, LinkedIn organic growth hacks and introduces you to inspiring LinkedIn experts to follow. If your B2B brand is looking to improve its marketing strategy on LinkedIn, we can handle that for you. Reach out to us at hello@vavodigital.com!