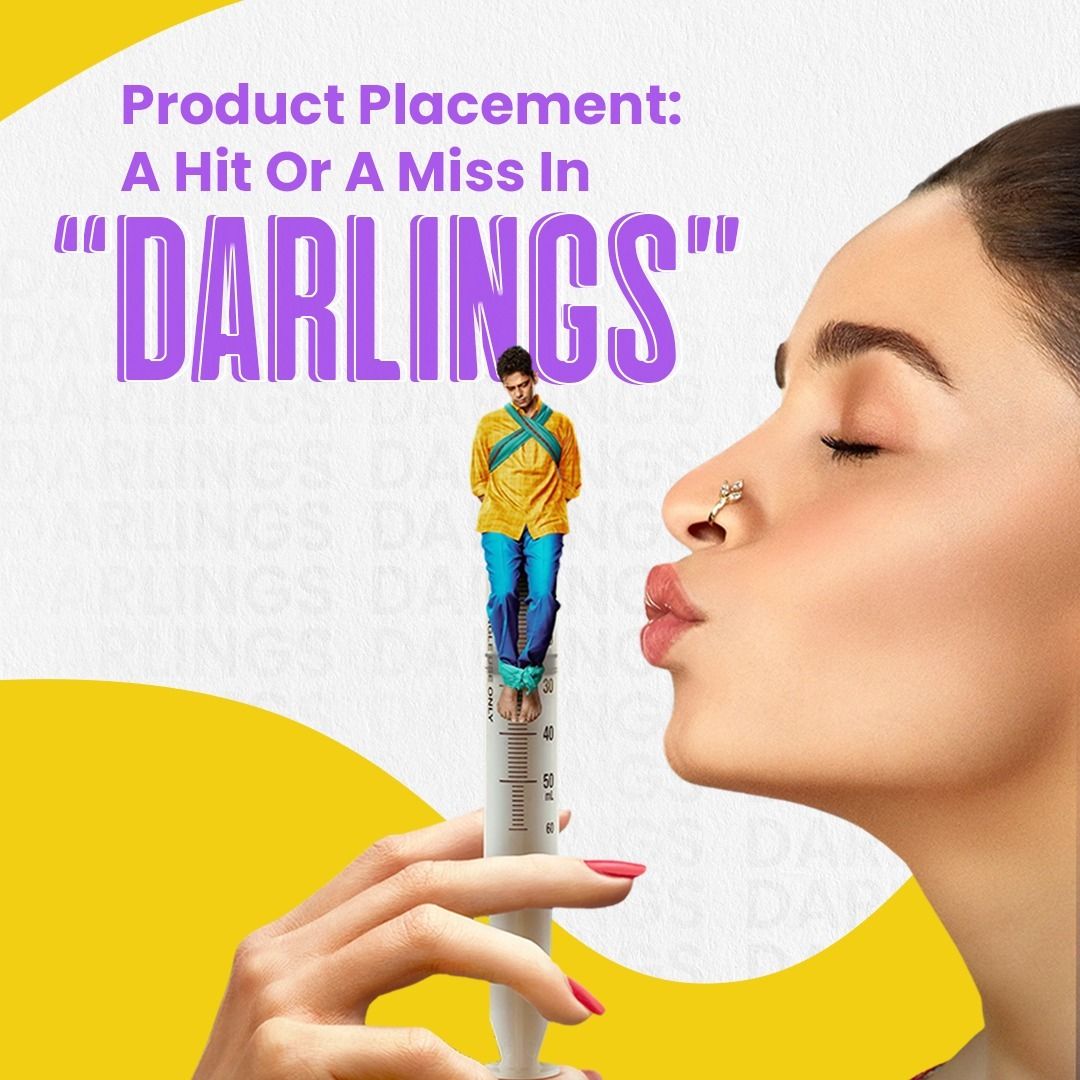 Product Placement: A Hit Or A Miss In Darlings

Darlings, Alia Bhatt's debut production as a producer, debuted on Netflix on August 5. It was a hit, and OTT viewers appeared to like it. However, numerous social media users highlighted how the plot utilized pricey and intrusive branding. After seeing the film, many viewers criticized it for its weak brand positioning. With only a few screen frames, the movie had several product placements. These companies promoted numerous products, including tiffin boxes, ketchup, milk, washing powder, helmets, hair oils, basmati rice, condoms, and sanitary pads.
But, What exactly is Product Placement?
Product placement is a cutting-edge merchandising tactic that allows brands to connect with their target markets without overtly engaging in traditional advertising. Since the product is embedded in another form of media, embedded marketing is another name for product placement. This placement of branded goods or services can frequently be seen in media such as movies or television.
Why does it matter for brands?
This blending of entertainment and advertising enables brands to connect with and engage with a large portion of their target audience. Two-thirds of TV viewers are thought to mute or skip traditional advertising because many people find them unpleasant or pointless. 
Product placement has the significant advantage that it cannot be skipped because it is integrated into the TV show, movie, or other media. To generate a compatible fit, which typically results in good assessments, the brand and the characters or context of the placement must coincide.
Could "Darlings" have done its brand integration better?
Source: Netflix
Vega Auto helmet, SanDisk, Milton tiffin box, Eva deodorant, Manforce condom, Parle Frooti, Amul milk, Tide washing powder, Daawat basmati rice, Veeba ketchup, P&G's Whisper, and 24 Mantra. Even though these companies may not have much in common, Darlings, a dark comedy thriller on Netflix, gave each of them a frame or two worth of screen time.
Every other frame in the Alia Bhatt-starring movie has a brand hiding in the background if you had the chance to watch it closely. Some brands match the movie's plot naturally, while others seem to be a major force-fit.
For instance, Bhatt, who portrays a young housewife living in a South Mumbai chawl, may be seen using Kama Ayurveda hair oil in one of the episodes. It is a luxury product that costs Rs 895 for 100 ml. As a result, it doesn't look good in the character's wardrobe.
Other items in Bhatt's little home that appeared out of place were Tide washing powder, Daawat basmati rice, Milton tiffin boxes, and Veeba ketchup.
While most brands in Darlings struggled to find an appropriate posture, a handful managed to blend in successfully. One such instance of seamless product placement has Bhatt and her on-screen husband Vijay Varma, each having a Frooti at separate points in the scene.
Things to keep in mind while executing product placement in movies:
1. Utilise the product on the character to make a statement- People like to relate to a character, and the product placement frequently works better when that character uses it.
2. Negative portrayal or misleading comments are a big "No No"- Use of a brand in a derogatory or hurtful way can undermine its reputation and goodwill and expose you to respond.
3. Use Product Placement for its intended purpose- Since the vehicle is being used for its designated function when someone is driving it, you can usually display a car logo in a production. However, using a car for a different purpose might lead to a marketing nightmare for the automotive company and possibly risky legal terrain for the content creator.
Summary
Product placement isn't always bad in its most basic form. It may be a simple way for businesses to promote their services and for production companies to make films at a lower cost. And when done effectively, the viewer shouldn't even realise it. However, it becomes a problem when the product placement detracts from the movie's plot and becomes annoying. Without having a nagging urge to make a purchase, moviegoers should be able to relate to the characters they are watching.
If you're looking to dive into product placement, we might be the right fit for you. Schedule a consultation with us today!
Note: All images used are for descriptive purposes only. All rights belong to the owner