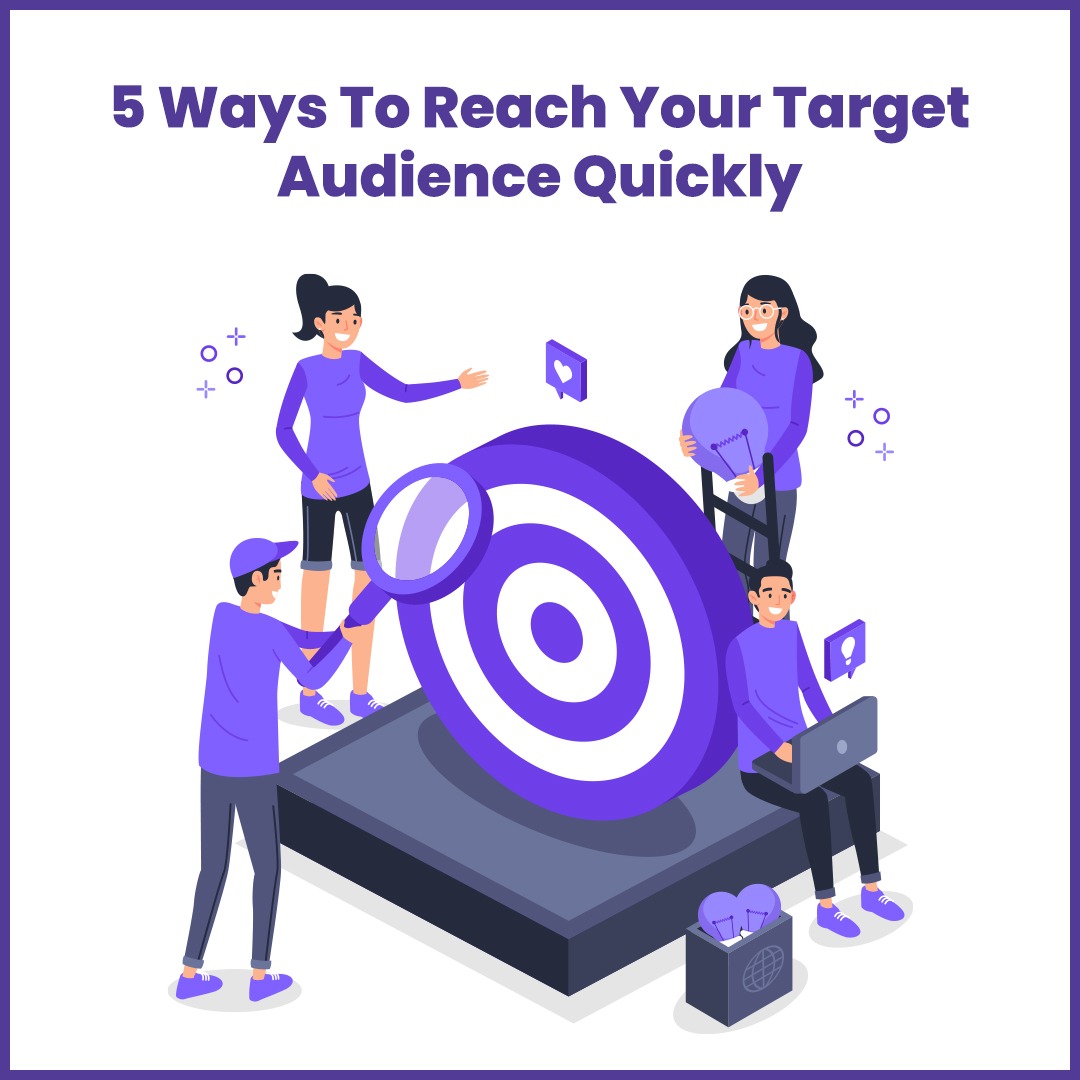 5 Ways To Reach Your Target Audience Quickly

Finding the right audience isn't a cakewalk when you are just starting up your business. Some businessmen can be over-ambitious or overconfident about their product which affects their marketing strategies.

Getting down the information about customer persona is no big deal in today's world. This information is already fed into the system data by the user itself if they are on social media platforms. Hence a collection of basic data like customer income level, marital status, and job profile is pretty easy to get.

You can also read 5 ways to generate leads with LinkedIn Inmail.

The real deal is when you know the customer's personal choices. Such as:
The most frequently used social media platforms like Reddit, Instagram, Facebook, and many others.
Type of content consumed preferably blogs, short video content, or posts.
Ideals or content creators they admire or follow the most.
Top featured news rolling out in the markets.
This is the data that needs to be collected through constant research by a dedicated social media advertising team.
But we haven't gossiped to you about achieving out for this data and how to reach your target audience quickly? Let's get started then:
Let Your Current Customers Be Your GPS
Have you ever realized, your old loyal customers are no less than a gem of information for you? There must be people who have been with you since the start of your product or service and they have liked the service. But now your brand products are no longer growing? They have reached a stagnant state.
So this is the time to review and get suggestions directly from the consumers.
Surveys and interviews are great ways to know where the lacuna lies. Surveys performed on a greater scale help to cover a large audience following or not following you. Instead interviews with honest customers let you break down their stories into your future strategies.
Be unbiased and take all kinds of suggestions. Assure the consumers that it was great hearing from them and you will surely credit the impeccable ideas received.
Subscribe to Social Listening Tools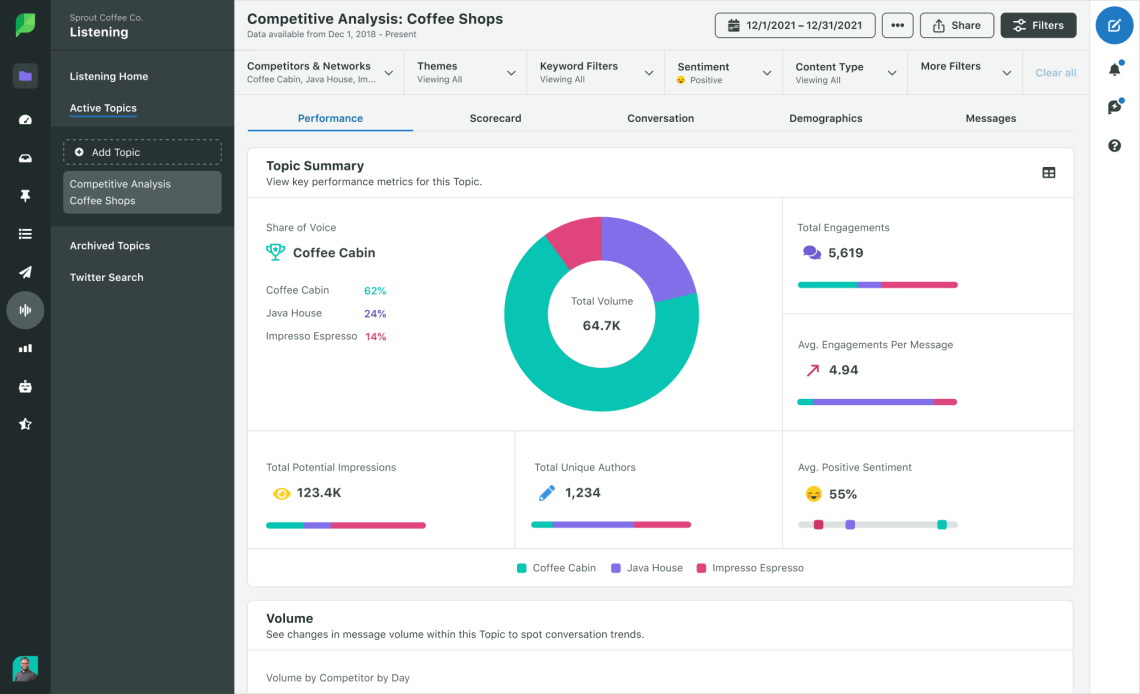 Credits: Sprout Social
Continuous posting on social media without reviews and feedback is a complete waste of time and effort. You will need to address the words and hashtags that are common in the market. Hence social listening tools make the task easier by sorting and presenting.
For instance, Falcon, BuzzSumo, and Sprout Social are potential AI platforms to find out what's going around the world in terms of percentages.
Know the insight of your customer and then decipher the code. You will get information such as their location, most common shares, and words most commonly used in profiles.
Know About Your Customers Idol
Knowing where your consumers get the inspiration for buying products is the surest way to crack the right deal. This helps you to approach the right influencer and the right ideas for campaigns.
In assurance with the above ideas, you can also ask for the idols in surveys and interviews with consumers you have conducted. You may get a mixed answer but that would be great to research.
For instance, people who are more into fashionable clothes and makeup, usually follow fashion couture like Vogue and Sabyasachi besides celebrities like Deepika Padukone, Jahnvi Kapoor, Sara Ali Khan, Shraddha Kapoor, and many others.
Not to forget our influencers who see known for their engagement rates such as Komal Pandey, Aashna Shroff, Diipa Khosla, and Sakshi Sindhwani who have arched an irreplaceable place in the hearts of fashion lovers.
Referral Marketing
Short forms of videos that talk about your brand's advantages in a real creative manner such that it isn't boring like other advertisements are prevalent in the market. Sites like Linkedin consume 50 per cent of video traffic.
Make organic content through collaborations and don't settle for basics if you can be nearly perfect. Earn through your customers. You can attract more bees by offering them some part of the nectar. Similarly, on every successful referral, you can incentivize your customers with good deals.
Find out the hideout caves where your community hangs out the most.
For instance, there can be pages where a small follower count is much more expressive than the bigger pages. Post about your referral offers and what the referrer can get on doing so.
People who join through the referral code will be genuinely interested in your product. This method helps to expand your network and worth without much investment.
Don't let your Customers Forget about You
Lastly, the norm for posting daily scheduled content never goes out of trend. Be unique whenever you explore a new topic. Your ads should be assertive but not regarded as spam to grow buyers.
People buy products if they can relate to them in their daily lives. You can take your inspiration from food delivery apps that have opened new doors to advertising. The marketing teams are doing remarkable jobs by connecting to people through their cheesy comments, memes, emails, and what not. They catch every viral photograph and have something to say about it. This is what makes them irreplaceable.
Zomato is one such platform with food carnivals and exciting deals always on board. They have chosen a hilarious way of advertising to draw maximum attention and elevate their numbers in demographics.
You can use Sehaye for easy and comfortable collaboration with an appropriate influencer and run a budgeted campaign.
Conclusion
I hope these 5 invaluable tips must work wonders for you in creating better connections with your profitable audience. You can never be completely successful unless you have unlocked the right social media marketing strategies. These algorithms can be confusing in the beginning but in due course with proper guidance, the task gets simplified.
If you are in search of a good master of social media marketing strategies, Vavo Digital is the one. With 100s of successful marketing campaigns in the pocket, Vavo Digital makes a strong position for brands and their collaborators to work on equal terms.
Still in doubt? Open up your Gmail app and send a query email to us at hello@vavodigital.com now! We will get back to you in no time.