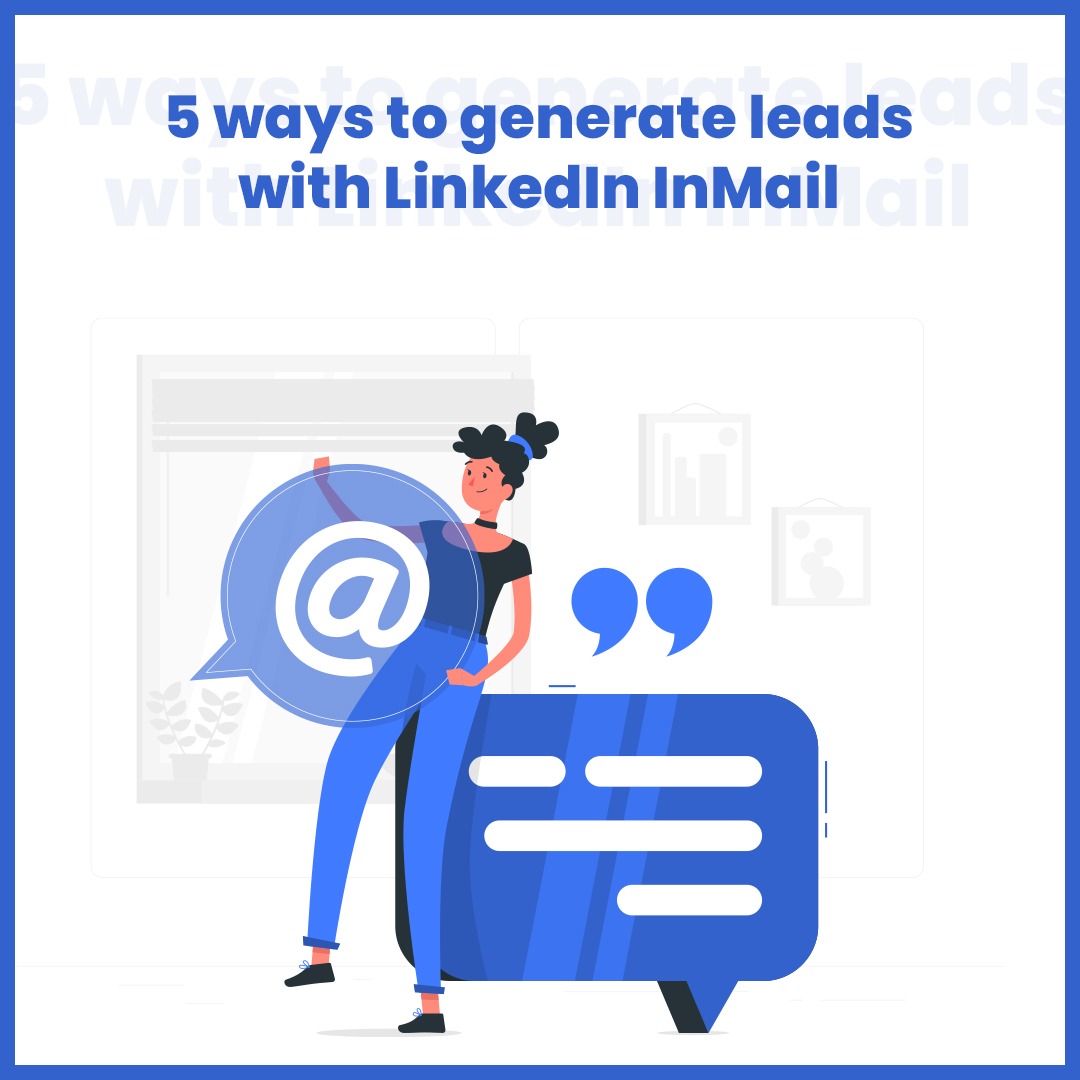 5 Ways to Generate Leads with LinkedIn InMail

LinkedIn is the best friend of several B2B brands for a reason. LinkedIn has a huge global workforce of professionals including sellers and buyers interacting with each other on a daily basis.

Hubspot tells that LinkedIn visitor-to-lead conversion rate is 200% higher than other social media platforms. All in all, LinkedIn is a powerful platform for B2B brands to boost conversions and generate leads.

It also offers some paid features to brands so that their outreach can be enhanced impressively. One of these amazing features is LinkedIn InMail. By using this, a brand can send quick personalized messages to the target audience with ease.

You can take advantage of LinkedIn InMails in different ways! Let's explore them down below!
1. Use LinkedIn Sales Navigator To Get Leads
Let's face this! You cannot keep an eye on all the demographics on your company's page on LinkedIn. Since customer avatar is important to target your audience and generate leads. Missing out on important insights can cause your brand a downfall.
To reduce this stress for you, we recommend LinkedIn sales navigator. It's an in-built tool that gives insights on the basis of filtering out the customers including their interests, professions, and companies they are associated with.
In this way, you will get not one not two instead ten steps closer to generating massive amounts of leads in no time!
2. Consider Some Solid Tips before Sending InMails
Every brand has the ultimate goal of boosting its sales and leads at the end of the day. For this, you need to send InMails with a strategy. It is one of the 5 ways to generate leads with LinkedIn InMail.
Here, we have some pro tips that will increase your chances of closing conversions and leads in seconds!
Stats show that InMail marketing gives the desired results when you send InMails at a specific time. For instance, send them up until 10 Am the entire week.
Weekends are not for sending InMails since there are fewer chances that you will get a positive response or even a response on a Saturday or Sunday.
Always trust your gut and send InMails to your former clients and LinkedIn connections as they have already worked with you, trust your style, and will love to re-collaborate as well.
3. Use Failproof Hacks to make them Respond You
So you sent an InMail to a person now what? Do you think they are going to respond back? It is something that most marketers fail to understand and do not take care of.
Due to this reason, they do not get the desired results and positive responses from their target audience. To avoid this, try some of these actionable hacks that will save you every time!
Scan the person's profile you are sending InMail to. It's better to address the prospect with their name and hook them by mentioning their pain point.
Don't lean towards too much professional or too much personal tone. Instead, try to strike a good balance in your InMail that will intrigue your prospect to follow what's been given in the InMail.
Sometimes things don't work according to your intent. It's fine if you don't receive an instant response from your prospect. Wait for a week and re-send your InMail by revamping its older content.
Never miss out on A/B testing. See what type of InMails works among different prospects and stick to them always.
You can also include personal interests or commonalities in your InMails. For instance, something that is common between you and your prospect. It will quickly draw their attention and will push them to read your InMail throughout.
4. Take Leverage of Automated InMail Lead Generation
Automation can speed up different things for you. However, it does not mean that you can rely on robotic InMails and a stern tone. Your InMails have to be perfectly curated as per the prospects, their professions, and their skills. In this way, you will be able to target the right people for enhancing your leads and conversions.
5. Try to Relate to Your Prospects through InMails
Now this tactic helps you surpass the barrier of being avoided by your prospects. Since we all receive hundreds of social media notifications, emails, and invites daily.
Your target audience needs something special, persuasive, and valuable out of them. So make sure to relate to your prospects when using InMail marketing, give them value, and make your products and services of use to them. There is no doubt that you can leverage LinkedIn for your business in many ways and InMail marketing is just one of them!
The Bottom Line
B2B marketing means you have to develop relationships with the decision-makers on LinkedIn. Getting closer to them will be easier through InMail marketing. If crafted properly, no one can stop you from achieving your business goals. Our motive at Vavo Digital is to make LinkedIn not only an easy platform to navigate for your business, but we also help you with fruitful tactics, LinkedIn marketing strategies, and a lot more. So if your brand needs professional assistance regarding LinkedIn then feel free to leave your query at info@vavodigital.com!