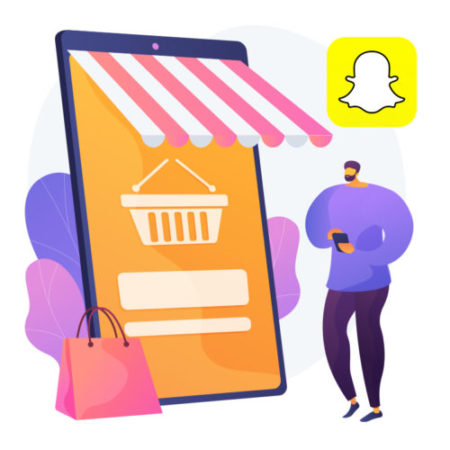 Snapchat to Launch its New Creator Marketplace!

"Slow and steady wins the race." Well, that's what we have learned and grown with! But it seems like the influencer marketplace is turning this saying upside down by enjoying its fast paced growth in the marketing industry.

And why won't they? After all, the influencer industry is only stepping ahead in this race of marketing. And brands are aligning influencer marketing with their campaigns, only helping them to win the race. Interesting, right?

You are totally confused about what we are saying, aren't you? Well, let us make it clear for you.

Brands and creators have been coming together on different social media platforms like Instagram, Twitter, Facebook, etc., to collaborate on influencer marketing campaigns. However, there has always been a debate about which platform is the best. But it seems like this answer has chosen to remain hidden somewhere.

While these platforms are busy competing with others, one more social media platform has broken the internet by joining this competition.

Do you know who? Snapchat!

Yes, you read it right. Snapchat will soon be launching the all new "Creator Marketplace" that will bring brands and creators together. Brands can partner with AR creators, Lens creators, and Snapchat creators, also known as Snap Stars. However, this marketplace will keep its complete focus on connecting brands and AR creators for AR ads this year. To be precise, AR creators who are already a part of Snap's Lens Network. Later in 2022, it will be made available to the whole creator community on Snapchat.

By later, we mean to say! Oops, sorry! We mean, Snapchat says that it will be focusing to connect all kinds of creators with the Snap advertising ecosystem. Well, you might be able to see all your favourite influencers in Snap ads later in the year 2022!

Looks like Snapchat has just blown everyone's mind with this news! But this is just the beginning.

Hey, wait! We are not done yet. There is more to it!

Businesses can look for creators by sorting the filters. They can choose the appropriate option from location, language, specialties, lens category, and budget. When brands get exposed to the list of creators, they can choose the one that fits them. And you know what? Through the "about me section", these brands can get a brief idea about the creators' personalities. It seems like even they don't want to leave any chance to impress their favourite brands!
These features have even taken many brands by surprise. It's simple, they don't have to put much effort into research now.
Snapchat has truly turned out to be a benefit for many brands. Well, especially for small brands! To get the right influencer, one needs to put in a lot of time, effort, and sometimes money too. But, thanks to Snapchat, it has just eased up the research process for the brands by providing them all the necessary resources.
Hey, the best part is yet to come! Eager to know what? Then, keep reading further.
Snapchat has indeed opened a lot of opportunities for brands and creators. But, it has solved some problems too.
When Snapchat's Creator Marketplace opens up, creators can help brands in building AR experiences without the need for extra extensive resources. Now, you might be thinking, how is this possible? Um, if we have to be honest with you, the word "impossible" has no existence in the marketing dictionary.
AR creators will be working within Snapchat's free lens studio to make it possible.
Companies can build compelling AR experiences with the expertise of AR creators. And creators can grab the opportunity of building their own business on this platform.
A great partnership, indeed!
Well, not just one, but Snapchat has brought many surprises to everyone's table through the announcement of Creators Marketplace. Yes, we know you are curious to know about the same. Let us get you familiar with it.
Snapchat's new marketplace follows Instagram's suite of new money-making tools for influencers. It includes affiliate commerce, creator shops, and branded content marketplace. Snapchat is definitely going to get tough on its competitors, and we aren't wondering why!
And to be eligible for the creator's account, the following criteria need to be fulfilled by the creators.
1) A minimum of 100 subscribers
2) Has had a Snap profile for 1 week
It looks like not all the rules are meant to be broken!
However, we don't think Snapchat is going to settle brands and creators for less. We guess that's the speciality of these platforms.
With the announcement of Creator Marketplace, Snapchat also touted the growth of another creator-focused feature, Spotlight, to highlight viral snaps. To put it simply, a hub for User Generated Content! It was launched last year in November. This feature doesn't showcase any public comments, and the profiles are private by default. Why? Well, to keep the Snapchat community away from the toxicity and the fake news that is pervasive on social media.
Moreover, all the content is moderated through human review and automation before it is distributed widely.
Snapchat is sure going an extra mile to build a pleasant and remarkable marketplace for brands and creators.
We promise this is the last thing!
To help brands maximize their ROI, Snapchat is also allowing them to purchase commercials within Snap originals. It will be a six seconds ad with a non-skippable ad format.
Wondering what Snap Originals are?
Snap originals are made for mobile programming, aiming to encourage conversations about mental health, racial injustice, social issues, and other important issues. Each episode averages 5 minutes in length.
Too many surprises in a couple of minutes, right? But, we are pretty sure all these surprises did make you compliment the ideas that Snapchat is putting in to grow its community!
Now it's time for brands and creators to gear themselves up to craft some exceptional AR experiences together!