Embrace Motherhood: Vavo Digital's Mother's Day 2023 Campaign

Being a mother is a remarkable journey that gives a lot of happiness, unending love, and countless special moments. Beyond borders, cultures, and generations, Mother's Day is a joyous event. Motherhood is a tapestry of feelings that saturates our being, beginning with the very first flutter of life inside and continuing with the delicate touch of tiny fingers and the wonderful sound of a baby's laughter.
Vavo Digital Launches A Digital Campaign On Mother's Day
Let's be honest; we are not able to express our deepest gratitude, affection, and admiration for our remarkable mothers every day who have selflessly nurtured us from the very beginning. But Mother's Day fully allows us to do just that. It is the day when we pause to celebrate and honor the extraordinary women who have graced our lives with their unconditional love, unwavering strength, and endless sacrifices.
Realizing this, we decided to launch the #MomsThatInspire campaign on LinkedIn. Throughout this campaign, participants share a number of stories that showcase the immense feeling of a mother's love.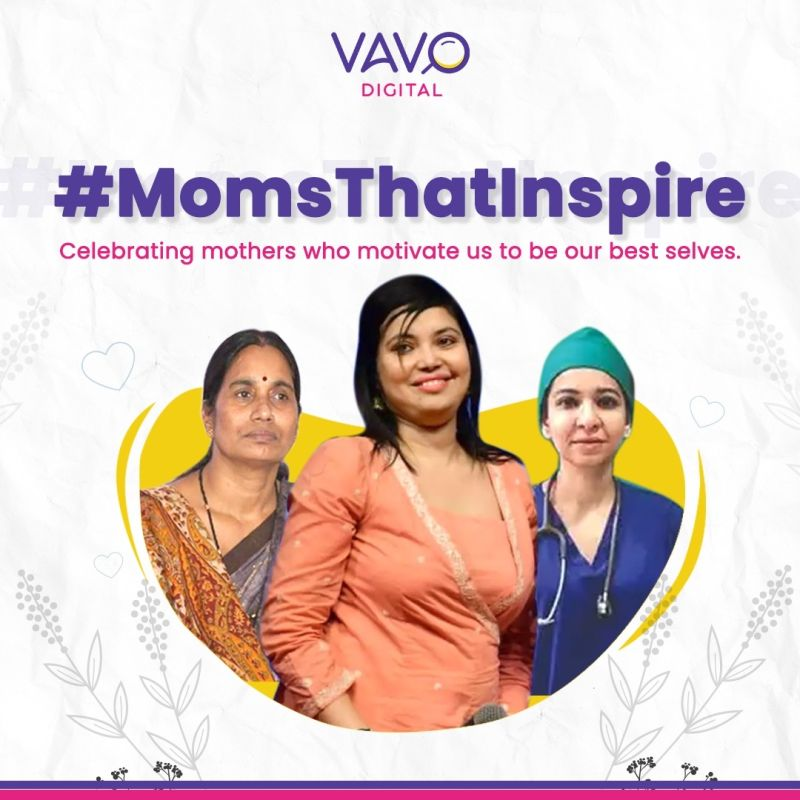 The following are some of the most moving tributes to mothers that people have shared,
Betsy Thomas wrote about her mother,
"Growing up, I didn't fully understand the sacrifices you made as a working mother, but now I can see how much you gave to provide us with a comfortable life and access to opportunities." She also wrote, "Your hard work, perseverance, and dedication inspired me to become the person I'm today"!
Shivangi Narula also wrote some sweet words for her mother,
"My first and only mentor. One who is always there when I do mistakes. She slaps me hard and loves me even more. She serves me before she even thinks about her meal. She is the one who gives me wings whenever I fall down. She is the reason why I wake up every morning to relive my dreams"!
Aanshul Sadaria also took some words about her mother on the board and wrote that,
"I can't put into words how your support means everything to me. When I was a kid, you always motivated me to focus on extracurriculars along with academics to shape me into the person I am today!"
Here is what Makshi Takkar writes about her mother,
"I want to thank you for always being my support system, and it's only cause of your guidance that has turned me into a strong person today that I can take up any challenge and achieve victory"!
Vidit Sidana also took the time to write a few words about her mom, saying,
"Both my mother and father served as Government servants, and coming from a middle-class family, I've seen how hard they've worked to provide the best of the facilities and platforms for me"!
Do these words not fill one's heart with warmth? Undoubtedly, they do.
Overview
1. The campaign was launched and made available to users of LinkedIn. With the registration and involvement of about 100 participants, the campaign was a success.
2. Employees of Vavo Digital and renowned LinkedIn influencers like Chinmaya Tripathi and Shivangi Narula participated in this campaign.
3. A total of 180K+ impressions were generated during the campaign making the campaign efficacious.
Closing Note
Neha Puri, founder and chief executive officer of Vavo Digital, commented on the effort, "This is a beautiful tribute to the countless mothers who have made a pretty profound impact on our lives. It's wonderful to see a campaign that honors these amazing women's selflessness, courage and determination".
Surely, the response has been thrilling and it really boosts our morale to initiate such amazing campaigns, we at Vavo Digital don't believe in just doing influencer marketing but also augmenting the real meaning of "influence".