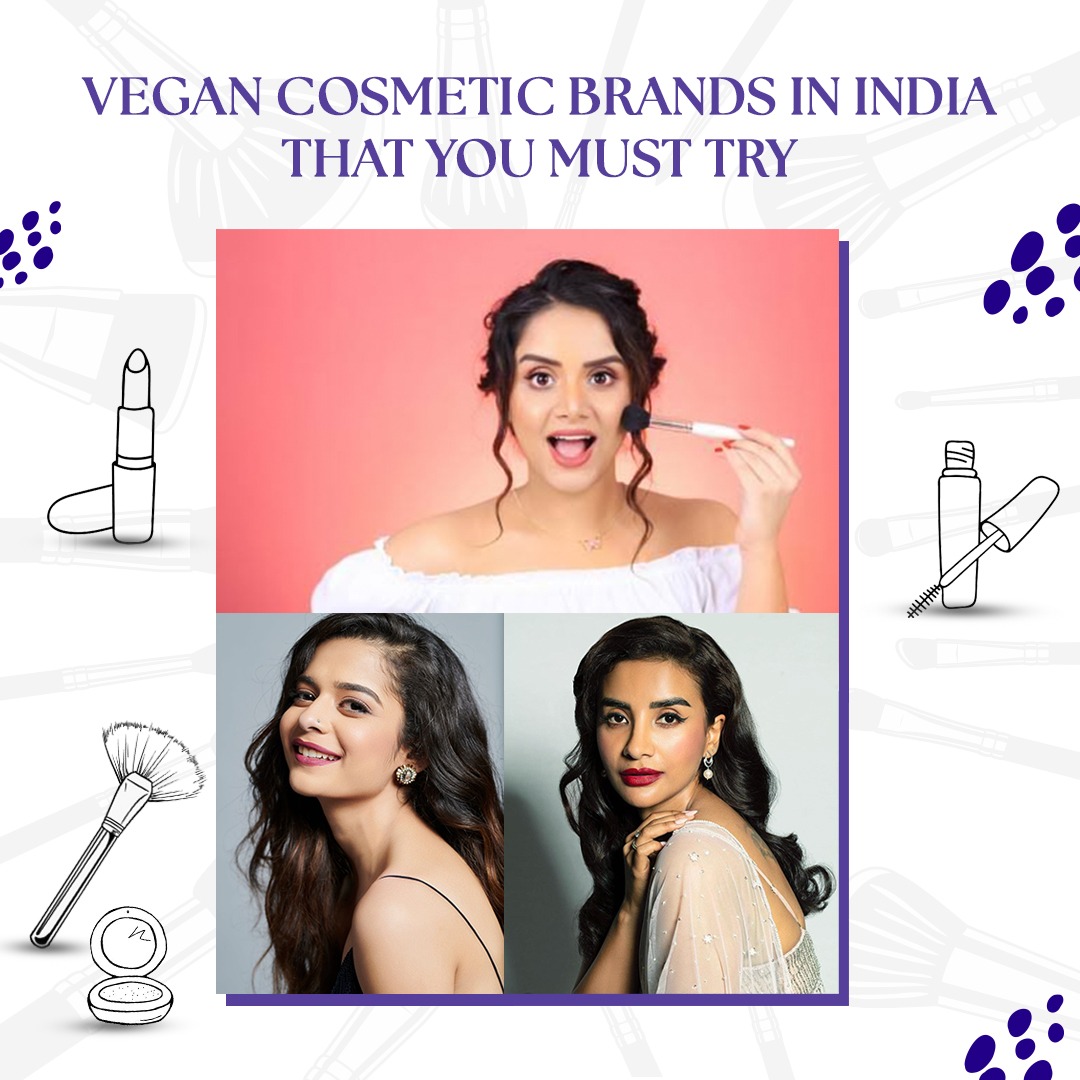 10 Vegan Cosmetic Brands In India That You Must Try

The best cruelty-free and vegan beauty companies in India take a comprehensive approach, using potent ingredients that are soothing to sensitive skin while yet being very effective. They provide several of the most potent formulae and colored products on the market and many are made using traditional recipes and techniques specifically for Indian skin types.

Many cosmetic businesses today make the claim to be vegan and cruelty-free. Veganism is the practice of avoiding all uses of animals or animal products. One thing is certain, whether it's animal vegan welfare or veganism: animals shouldn't be used as test subjects for cosmetics. Doesn't that seem obvious? Several cosmetics companies whose products are on your shelves employ animal testing.

With sustainability becoming more popular today, a number of homegrown brands have successfully developed cosmetics that are both animal and skin-friendly and sustainable.

What else? They are now accessible at all price levels.

Also, we have seen a lot of influencers moving towards sustainability and are inspiring us to go green! Want to check out those idols read: 5 Indian sustainability influencers who inspire us to go green!

Meanwhile, Here is our list of some of the top Indian cosmetics companies that are vegan and cruelty-free that you should check out:

1. Plumgoodness
Plum is a Peta-certified 100% Vegan and cruelty-free product, lacking animal-induced products like honey, silk, beeswax, leather, etc. Containing products suitable for all skin types, Plum is simply everyone's favorite. In addition to choosing veganism, Plum also actively participates in recycling goods through the #Empties4good initiative. Influencer marketing has been heavily utilized by vegan beauty and skincare company Plum to promote and increase awareness for all of its products. The brand has recently run a number of campaigns for its popular products like Plum Vitamin C Serum, Plum Green Tea Face Wash, Grape Seed, and Buckthorn Oil.
Finding vegan lipsticks in India could be an irritating task, but everything was made easy with the launch of Disguise cosmetics! The brand is highly known for its wide range of lipsticks with creamy, velvety, and moisturizing formulations.
Lipsticks aside, they produce eyeliner pencils, eye shadows, and glow multi-sticks that may be used as a highlighter, eye shadow, or eyeliner. 
3. Asa Beauty:  
Asa Beauty strongly believes in luxury clean cosmetics, which refers to culminating minimal waste as well as plastic. According to the founders Asha Jindal Khaitan and her daughter-in-law Sukriti Jindal Khaitan, clean beauty isn't only about ingredients, it's also about sustainable practices, breaking the use and throw cycle, and packaging that's not, well, plastic. Thus they make use of all aluminum packaging as well as making their products refillable.
4. Kiro: 
Kiro's products are clean, chic and 100% cruelty-free! The brand is completely transparent about the key ingredients like jojoba oil, mango seed oil, vitamin C, vitamin E, and shea butter. To further help ease your confusion during buying makeup products, their website recommends the most viable products suitable for your skin color.
5. Nyor: 
Nyor, which simply translates into 'dew drops' in Assamese, provides the users an organic alternative to chemical and inorganic products which are proven to be harsh on human skin. Certified by Peta, their products are paraben-free, cruelty-free, and vegan. They offer luxuriant makeup products along with a glowy face and everything at an affordable price.
6. SoulTree: 
SoulTree is the first Indian brand to sell European-certified natural products and makeup. Providing herbal, organic, and ayurvedic cosmetic and beauty products, SoulTree is highly renowned for its nourishment capacities. The original idea behind the brand was to contribute to a sustainable lifestyle as well as support women farmers in Uttarakhand. 
Free and Equal to beauty focuses its products to suit all Indian skin tones and are crafted to work in a warm climate. Founded in 2019, FAE beauty aims at bringing you something real, authentic, and unfiltered. With all the versatile lipstick shades and buildable matte lipsticks designed specifically for Indian skin, FAE beauty is more than likely to steal your heart. 
Daughter Earth uses Ayurveda and biochemistry to give us the best products. Their products are plant-based containing exotic ingredients like Shea, Moringa, Candelilla, and Almond. They have an elegant range of lip and cheek tints, and concealer and have launched plenty of lipsticks suitable for all skin types! As the name suggests, Daughter earthworks towards the welfare of women by giving a portion of their profit for the schooling of underprivileged girls.
Bon Organics are also known as  Bio natural and organic, makes use of ayurvedic formulas and ancient techniques. Their products are 100% organic and have been certified by USDA Organic certification. Further, to maintain the freshness and effectiveness of the contents of the product, everything is completely handcrafted and made in small quantities. Don't forget to check out their shampoo and soap range for your pets!!
As the name clearly points out, all the products are just herbs. The award-winning biochemist Dr.Neena Chopra found Just herbs while experimenting and coming up with her own combinations of spices. The brand is completely animal cruelty-free and is even supported by the Ministry of Ayush, Govt of India. The brand recently gained a lot of popularity when an advertisement featuring actress Patralekha, no wonder why brands are making the most of influencer marketing.
The companies on this list have received certification for being vegan, cruelty-free, or both. Read up on their websites and other recognized portals for clarification to verify their additional certifications and other ethical business practices.
Do you know of another ethical vegan cosmetics company in India? Share them with us in the comments section.
NOTE: All images are used for descriptive purposes only, all rights belong to the owner.