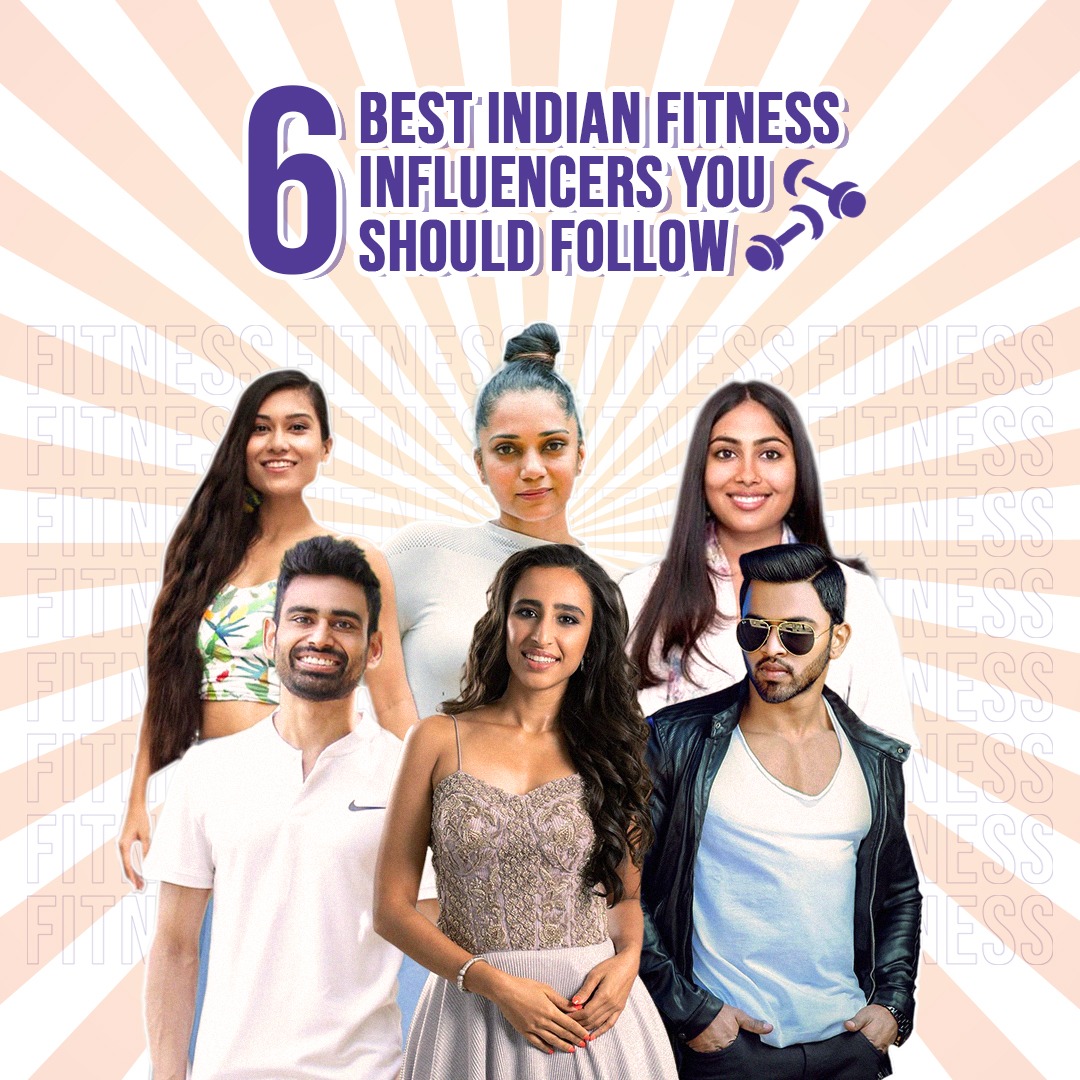 6 Best Indian Fitness Influencers You Should Follow

The internet is rife with creators who make claims about having the "quick fix" or "secret tool" to perfect fitness. We may start or improve our fitness journey with the guidance of some of the greatest Indian fitness influencers on Instagram. Check out these 6 upcoming fitness influencers who promote fact over fiction in a world where clicks are valued more highly than true science.

1. Sonali Swami–
It's never too late to start training, as Sonali, who began at the age of 37, has shown to everyone who believes they should have done it earlier. She was married, had two children, and was about to enter her forties, but she didn't care what other women or people thought of her; instead, she pursued her passion and showed the world that bodybuilding is a SPORT that is appropriate for women of all ages, even those who have children.
Vikram, 24, was crowned "Mr. India 2019" and "Mr. Marathwada." A silver medal was also awarded to him at the national junior bodybuilding competition. His Instagram account has 1 million followers. He established the "VJ Army" charity to help the poor and in need.
According to films on his digital account, he provided food and medicine to the needy at government hospitals in Aurangabad, Maharashtra. Additionally, he offers online fitness coaching for both men and women, including personalized nutrition plans and workout regimens for each customer.
3. Radhika Bose– 
A Yoga enthusiast and fitness blogger Radhika Bose has been known as Superwoman. Radhika Bose, popularly known as Yogasini, has collaborated with numerous leading organizations, such as Fabindia and American Eagle India. 
She has also produced some phenomenal jobs in the Creators' Coliseum. For her writings promoting a healthy lifestyle, she has also been featured in major publications like the Delhi Times, Mid Day, Exhibit, and others.
Not just fitness influencers but travel photography influencers are also making a name for themselves in the influencer marketing industry, want to know more about them? Read our blog here
The Pilates Studio was established by Indian Pilates instructor Namrata Purohit and her father, Samir Purohit. At the age of 16, she became the youngest Stott Pilates instructor in the world, and by the time she was 19, she had completed all of the courses. Her customers include Bollywood stars, athletes, and other well-known individuals. The Lazy Girl's Guide to Fitness is another book she wrote.
5. Fit Tuber– 
Vivek Mittal, better known online as "Fit Tuber," is a well-known figure in the fitness industry. He currently has more than 3 million followers and more than 250 million video views online. The goal of Fit Tuber is to help people realize that their health comes first. Everything else will take care of itself as long as you have a healthy body and feel good about yourself. He has produced several videos on issues such as fitness and health, healthy cooking, safeguarding oneself from dangerous chemicals found in everyday products, and weight loss
6. Satvic Movement–
An influential duo who promotes green, eco-friendly living runs the fitness and sustainability page Satvick Movement. They also provide articles on how to recognize and understand your food, how to make your eco-friendly cosmetics, and how to live a simple, sattvic life.
Parting Note
Indians are growing more health concerned today and are willing to attempt new types of exercise. The importance of maintaining excellent health is becoming more and more clear to us. This is wonderful news for personal trainers and other companies involved in the fitness industry, such as gyms, studios, nutritional supplements, apparel, footwear, and equipment for the gym.
Social media has replaced newspapers as well as the fitness celebrities of today. Let's say a company wishes to increase sales and maintain its reputation. In such a situation, they must work with these Instagram influencers, whose fan engagement is great and whose opinions are respected.
Vavo Digital has worked hard to compile some of the best fitness influencers on Instagram who are experts in their field. They will be a perfect partner for you, and your brands, to help you leverage your social media presence to capture your target audience. We make sure the influencer you work with is the ideal match for you. If you wish to discuss more on the same, drop us a mail at hello@vavodigital.com
Note: All images used are for descriptive purposes only, all rights belong to the owner