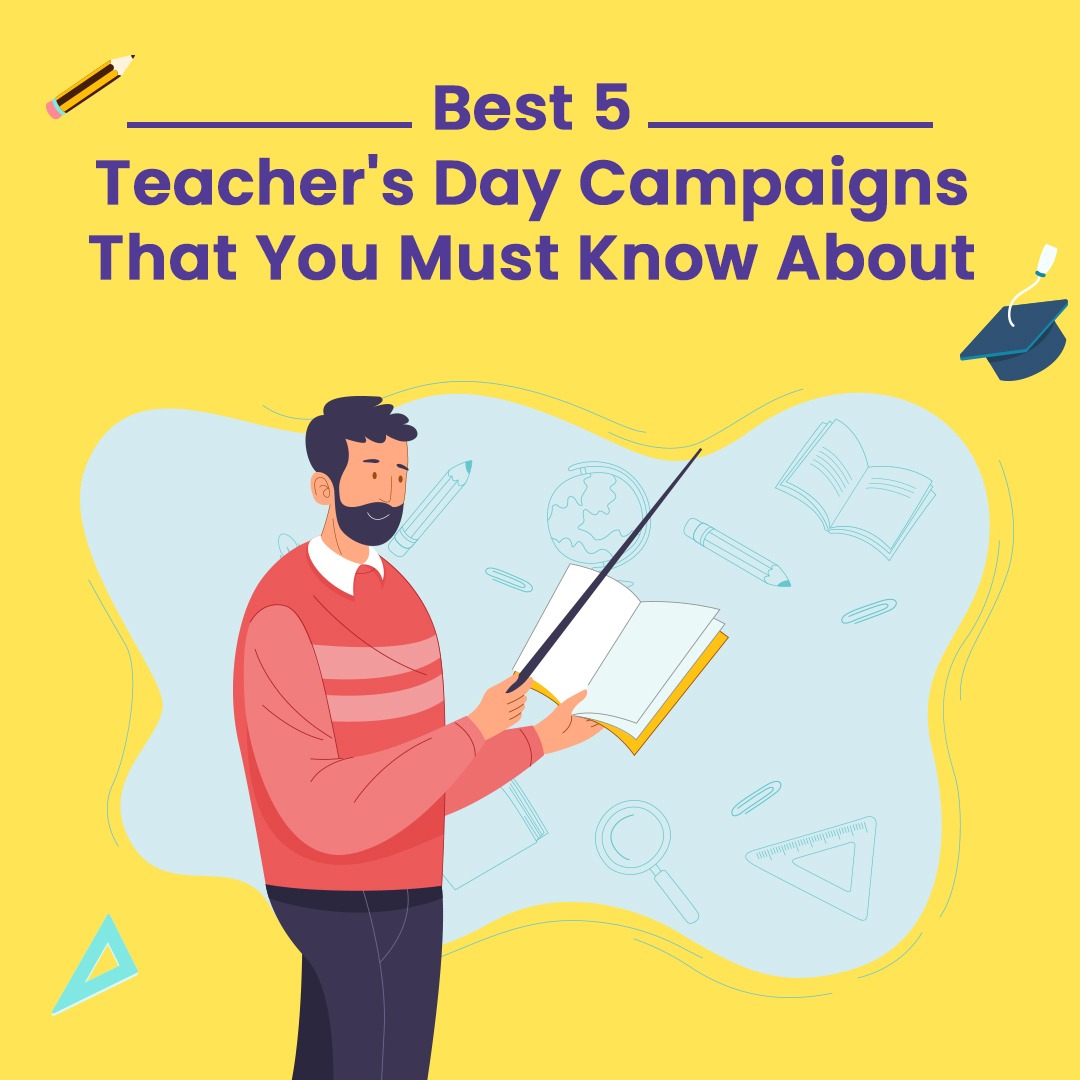 Best 5 Teacher's Day Campaigns That You Must Know About

Every year on September 5, Teacher's Day is observed to commemorate the birthday of Dr. Sarvepalli Radhakrishnan, India's second president. On this day, everyone shows their appreciation and respect for their teachers. Every year brands also come up with some thought-provoking video advertisements and insightful social media postings to make the most of this occasion and connect with the consumers. Let's look at some of the campaigns below:
The BYJU'S Teachers' Day ad campaign, launched with the hashtag #LearningNeverStops honors teachers who have positively impacted our lives while subtly drawing attention to any challenges they may have encountered due to the abrupt shift to online education. The video emphasizes how teachers have persevered in their roles as mentors and instructors despite personal hardships to make sure that their students' learning never stops. The YouTube video got a whopping 13 Million views and was showered by lovely comments from the viewers 
A set of 3 new digital films were released by this edu-tech business as part of the #LifeLongLearning campaign, which celebrates the importance of many teachers in one's life. The films, which were created by the in-house team, are a humorous take on the changing definition of "teachers," which now includes career coaches and mentors for students as well as peers and coworkers.
Did you know? Upgrad's amplification partner for this campaign was Vavo Digital . We deployed LinkedIn macro influencers for the same and promoted their campaign by asking influencers to  tell their story relating to the video  through their post. These were heart touching stories that came through which made posts even more popular as the posts had personalised touch. Thus, made the campaign successful.
Want to learn more about LinkedIn influencer marketing? Here's what you need to check out: LinkedIn Influencer Marketing: Does your brand needs LinkedIn Influencers?
Class plus shares the touching tale of Anand Sir, who is adored by both his students and friends for his efforts in teaching and educating, as part of their Teacher's Day promotion. His relationship with his students will take you back in time. No wonder, the video generated 15 million YouTube views. The product is effortlessly included into the film, which demonstrates how teachers may now move their classroom wherever they like.
The video called " Ladoo ki khoj" honors the spirit of every teacher who continues to open their heart and home to ensure learning never ends and is a perfect ode to how teachers, with the help of technology, have been vital to the learning experience of students throughout India. Microsoft, being an international brand understands the Indian essence. They raised awareness of the crucial role that educators play in society, which also resonated with their mission to empower everyone to achieve more. Take a bow!, Microsoft.
The proper time to learn never comes. Everyone learns at their own rate since learning is a process. A true "Sikhane Wale" is someone who has the patience to guide us through the learning process. With a moving video, Infinity Learn thanks these teachers for all they do.
Parting Note
Already scribbling a "Thank You Teacher" note? Well you should !!
Have you ever thought about how these brands understand the importance of such auspicious days and take it as an opportunity to promote their brand as well as give their tribute.
Kudos to these brands for making such realistic campaigns that can move a needle in society. Know more of any such campaigns which you may have come across, share them with us in the comments section. We are waiting!
Note: All images used are for descriptive purposes only, all rights belong to the owner