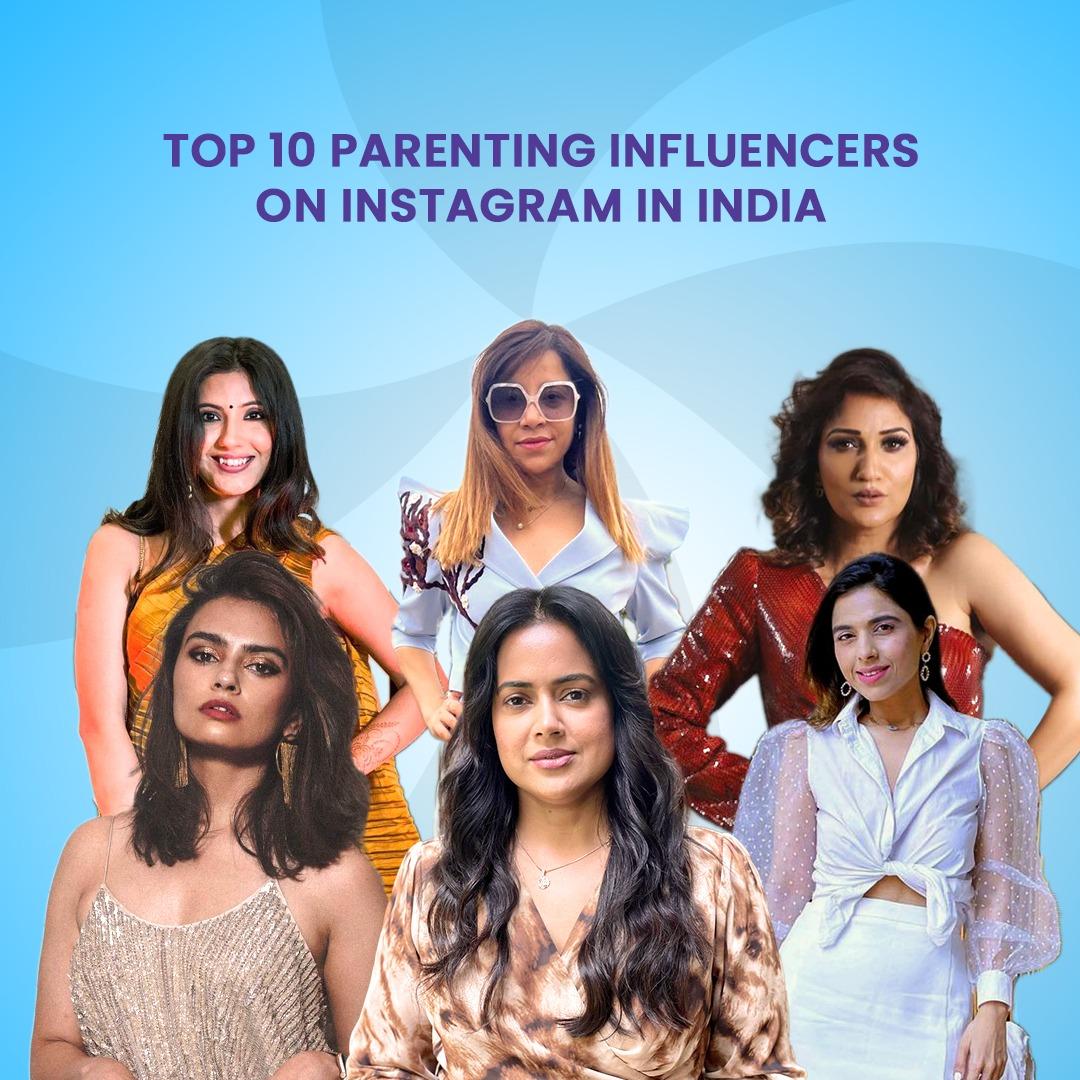 Top 10 Indian Parenting Influencers To Follow On Instagram In 2022

Being a parent is one of the greatest joys in the world, but it's also the hardest thing you can imagine. Being a parent would have been very difficult if not for these parenting bloggers, with so many duties to protect and nurture such a delicate life.

Parenting influencers are experts in everything and, more importantly, they freely share it. This includes personal experiences, baby hacks, and knowledge on the best practices for a newborn baby.

These parenting influencers may therefore be the most vocal advocates for your brand name if it is related to healthcare items for parents or babies. Parenting influencers have cultivated a lot of respect and high reputation and trust when it comes to parenting recommendations and advice as people do not wish to compromise on caring for their child by trusting just anyone.

Here are a few of the top parenting influencers with devoted followers who give them credit for their useful parenting advice and baby hacks. Collaborating with them will definitely add to your brand's reliability.

1. Ishna Batra–
Ishna Batra works as a full-time mother, part-time blogger and social media influencer, and a fitness lover. Her virtual profiles on social media reflect her duties as a mother, blogger, and fashion enthusiast. She has been relishing being a mother to her two gorgeous kids. Her lifestyle and travel blogs have inspired women on social media to live the lives they want to live. She has demonstrated that the proverb is accurate: Nothing can put out the light within.
2. Sameera Reddy–
Due to her refusal to let bullies dictate her way of life, Sameera Reddy has long been an online proponent of self-love and acceptance. The actor and mother of two beautiful children posts approachable content to her Instagram profile where she talks about motherhood, her idea of beauty, and the importance of staying real online.
3. Harpreeth Suri–
A lot of innovative bloggers and influencers who are changing perceptions of beauty and fashion are fortunately available to the Indian media. Harpreet Suri, aka MomWearsPrada, is one such blogger, fashionista, communicator, and mother. By managing her own well-known website, she has honed the ability to seamlessly combine all of her talents. She launched the site Mom Wears Prada, where she discussed motherhood with other women and gave them advice.
One of the most well-known parent bloggers and online content creators, Saru Mukherjee Sharma, exceeds all expectations on social media and makes money from fame. She started her journey as a pioneer of the mom blogging community in India in 2017, when her baby Rudraksh was six months old. She started her blog Diapers and Lipsticks in an effort to change Indians' perceptions on parenting. Everyone became interested in the blog, and Saru gradually gained popularity among Indian mothers.
5. Yuvika Abrol–
One exceptional content creator is the gifted and enthusiastic Yuvika Abrol. She is a comedian, mother, and lifestyle influencer, produces captivating material and frequently films her adorable son, and the videos are both entertaining and wholesome. No wonder she makes it to our list of top parenting influencers in India.
One of our favorite campaigns with Miko Robot was a huge success because of the high value and trustworthiness of parenting influencers. Curious to know more? Read our blog: VAVO DIGITAL X MIKO 3 ROBOT: A CAMPAIGN TO REMEMBER
6. Shraddha Singh–
Shraddha, a popular Instagram influencer who talks about parenthood, fashion, and sustainability. She also has a YouTube channel where she primarily discusses the events of her daily life. Her candid discussions of her experience as a mother and her ideas on content creation are inspiring.
Shivangi is a Pilates instructor in addition to being a successful mommy blogger with a focus on parenting, fitness, and healthy living. Given that she maintains a very high standard for her content, it's always a delight to interact and connect with her films. Visit this blogger's profile if you want to read thought-provoking and interesting writing.
8. Riddhi Deorah–
Parenting and life coach Riddhi Deorah holds a valid social media presence. She developed the Easy Parenthood Hub and focuses on helping expectant mothers and new parents navigate parenting while also facilitating corporate training.She is currently working to support mothers in living a contented, healthy, and spiritual existence.
9. Avneet Kaur–
This parenting influencer, who is based in Chandigarh, enjoys sharing personal stories about parenting, lifestyle, travel, and other topics. You can discover her advertising several regional businesses that are relevant to parenting, skincare, and lifestyle if you visit her Instagram profile. She serves as an example for all new mothers who create content and struggle to come up with interesting concepts.
10. Roopal Sharad Bajaj–
Another mom influencer on our list, Roopal enjoys writing about topics such as parenting advice, product reviews, and baby care. Her postpartum depression awareness content generated a lot of talk among the mom influencers in the neighbourhood. She enjoys discussing unusual subjects that moms deal with on a daily basis.
Wrapping Up
You may be scratching your head and wondering, "Where are the male parenting influencers? " as we hit the end of the list. So, let's break it to you the truth- There are probably no male parenting Influencers on social media, but if you take a look at public figures like Jay Bhanushali, Karanvir Bohra, and Suyyash Rai, they all share their parenting antics on their profiles, which is gradually influencing people's perceptions of fathers in parenting or single parents. You would see the change is gradually taking place if you took a close look at your friends, family, and peers.
Kids brands such as Kellog's, Miko Robot, Mother Sparsh, Johnson's Baby and many more are doing an exceptional influencer marketing via parenting influencers and gaining a lot of traction. If you have a child or a parent oriented brand, you can leverage these parenting influencers for your marketing campaigns. For more details, reach out to us NOW.
Note: All images used are for descriptive purposes only, all rights belong to the owner