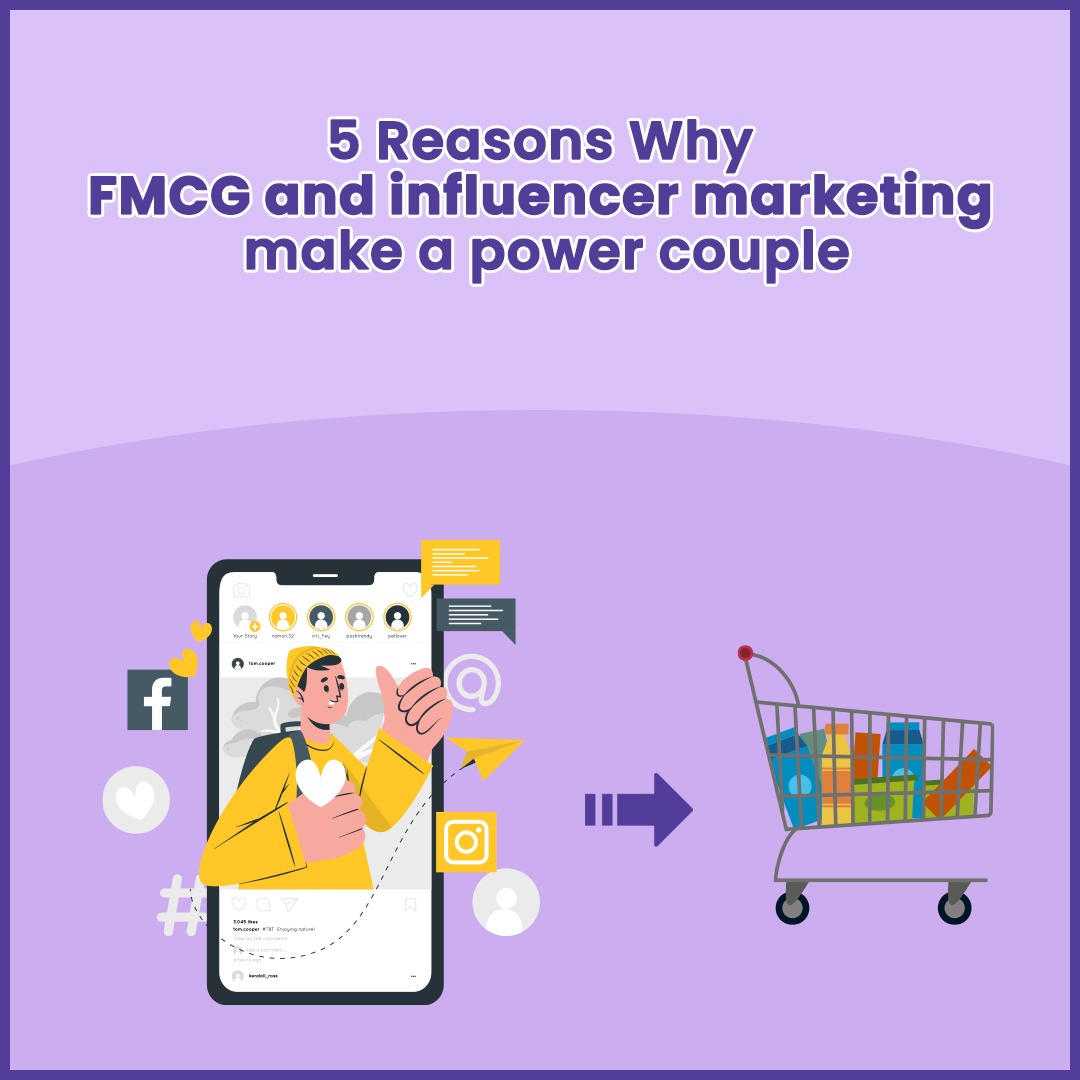 5 Reasons Why FMCG And Influencer Marketing Make A Power Couple

Are you a believer in coupling FMCG with influencer marketing? Well if not then after this post, you are going to love influencer marketing to promote and establish your FMCG in the market.

India's FMCG industry is growing at an impressive pace while generating a revenue of $56.8 Billion as of 2022. As we speak of this, there was a huge perception that only beauty, skincare, health, and fitness brands can collaborate with influencers.

However, things are different these days. Today, FMCG is breaking the barriers and brands are indulging in influencer marketing to increase brand awareness for the companies.

We are going to have a look at the relationship between influencer marketing and FMCG brands. Also, we will try to establish how both of these cannot survive without each other in the long run!
So let's see how your FMCG brand can benefit from influencer marketing!
Skyrocket Sales
The FMCG brands are always in need of improving their sales from time to time. Now, if you are an FMCG brand, you can do this in different ways. You can interact with the audience and use paid ad campaigns.
Speaking of which, if you need to shuffle your influencer marketing campaigns, then don't forget to discuss 7 types of influencer marketing campaigns with your influencer this instant!
You can give an edge to your marketing strategy by trusting influencers. Influencer marketing can be your biggest asset to increase sales when your brand is running short of valuable conversions to stay afloat.
Fosters a Trusted Relationship
FMCG products are usually easy to access in grocery stores and supermarkets. However, in case of any emergency, your customers can find it troublesome to find your products in nearby grocery stores.
Now how you will tackle this problem? Through influencer marketing! Just find a perfect influencer, discuss your requirements and budget, and make them promote your brand among their audience.
So that you can fill in the gap of demand from your customer's end. In this way, your audience could trust you in the hard times and they can rely on your brand even in the situation of crisis.
Sustain with Digital Advancements
We are living in a digital era and this also applies to FMCG brands. There were some FMCG brands that did not adapt to digital advancements intentionally. Luckily they were able to survive the obstacles.
However, after the COVID-19 pandemic, about 80% of FMCG brand owners agreed that the pandemic has acted as a catalyst for FMCG brands to adhere to digital advancements.
It means if you use influencer marketing for this purpose, your brand will always be ready to keep up with the latest trends. Finding a perfect influencer got so easy with our SEHAYE app! Now you can cut the fuss of exploring a long list of influencers for your FMCG brand.
You can simply use Sehaye and it will just open a door to countless collab opportunities, details of influencers, and much more! So don't delay downloading SEHAYE since your influencers are waiting for you!
Step up Your Online Sales Game
Today, different FMCG brands are now taking an interest in boosting their online sales. Influencer marketing is a great way to make sure this happens. So that your brand does not have to suffer much by wasting more time.
During the COVID, consumers relied on online shopping as the lockdowns had restricted in-store shopping. Not only during COVID, still, people love to buy online and influencers can be your biggest help to leverage your social media channels for increasing your online sales.
Make Them Emotional for Your Brand
The success of a brand lies in the emotional connection with the audience. Once you have successfully won their trust, you are unstoppable! When the audience gets emotionally connected with your brand, they happily invest in it as well.
Influencers expedite this process by frequently endorsing your FMCG products among their audience. They will trust your influencer and there are more chances that they will buy from your brand as well. It means you can make people emotional for your brand easily with influencer marketing.
Influencers have won over Magic Spoon!
Magic Spoon is a cereal brand that has reinvented childhood cereal to be high-protein, non-GMO, and keto-friendly. Magic Spoon's influencer marketing has resulted in triple-digit year-over-year growth. They prioritise social media and influencer marketing in order to reach a larger audience and appeal to younger consumers. They focus on prominent podcasts and pay for sponsor posts to attract a more expert audience. Magic Spoon is witnessing significant growth as a result of its strong influencer marketing initiatives.
To Recapitulate
Influencer marketing and FMCG are definitely a power couple since both tag along really well in hard circumstances. Influencer marketing can save your FMCG brand from sinking when it might face an existential crisis and poor conversions. See? How Vavo Digital has successfully intrigued you to give influencer marketing a try for your FMCG brand!!?
We present Vavo Digital where we make the impossibles of digital marketing possible for your brands. With us, you feel no burden on your shoulders to find incredible influencers for your promotional campaigns. It's time to share your ideas with us and get started with your project right now! Schedule an on-one-consultation with us at hello@vavodigital.com!!!