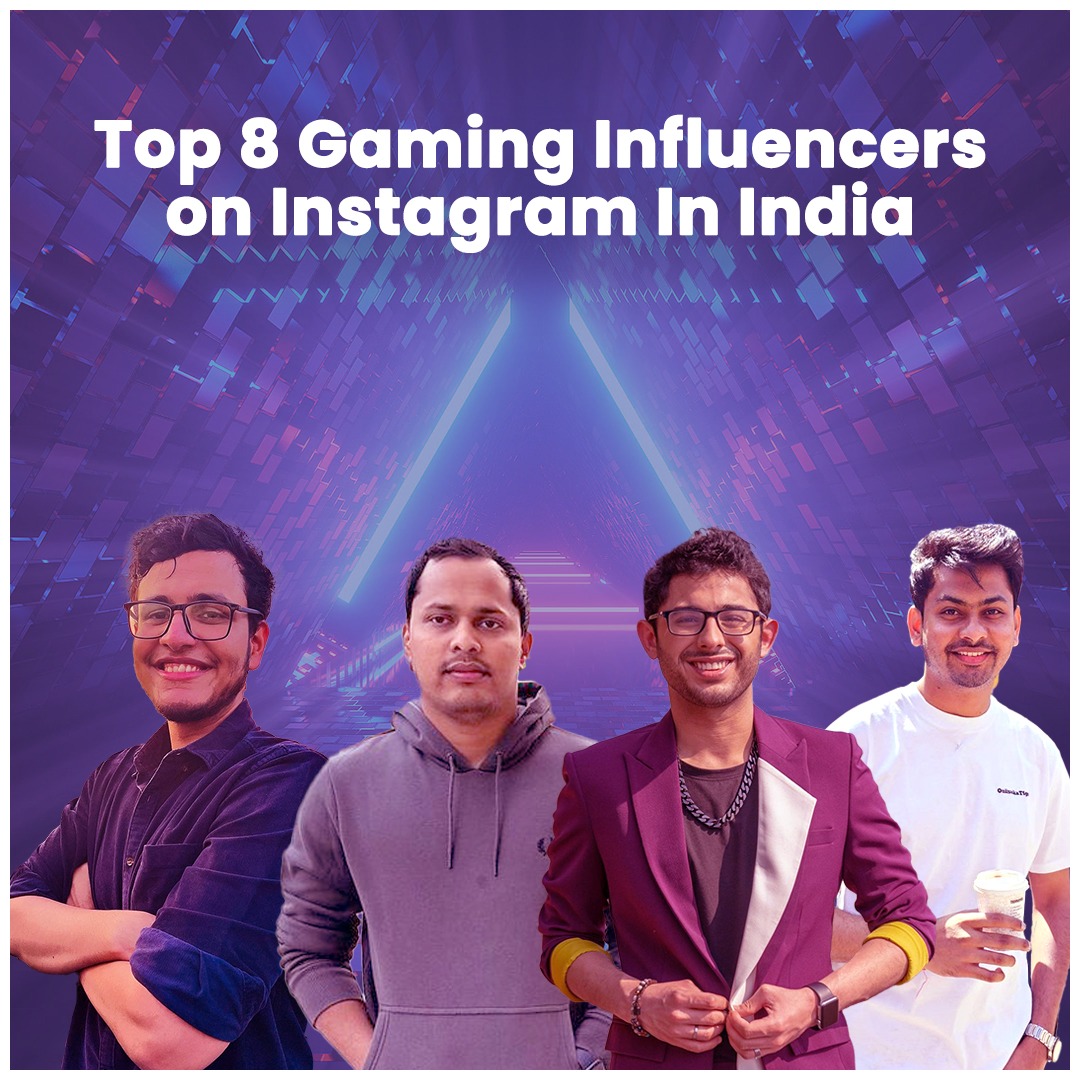 Top 8 Gaming Influencers On Instagram In India

Gaming Instagrammers and gaming influencers are those that produce gaming-related material with the intention of inspiring and entertaining their followers with their incredible gaming prowess. They accomplish this by posting gameplay footage of their matches and live-streaming them while providing analysis.

The best gamers in India with outstanding Instagram gaming accounts have been assembled by us. These YouTube gamers are not just masters of their craft but also fantastic entertainers. People follow such myths without even knowing, you need to know 5 myths about working with influencers.

You will be amused the entire time by the live, funny commentary in their live gaming sessions on their YouTube gaming channels. Not to mention, this thorough list of the top 10 Indian gaming influencers on Instagram is a fantastic medium for gamers and tech firms to use in their influencer marketing campaigns on Instagram. You can use Sehaye to collaborate easily with no struggle. It will help you meet with a variety of brands and influencers at the same time. So, let's get started straight now without further ado!
List of Top 8 Gaming Influencers on Instagram In India:
One well-known gaming influencer is Ajey Nagar, popularly known as Carryminati. His videos' commentary is well-known. He started his YouTube channel when he was 10 years old, and since then, it has grown quickly. He has 36.2 million YouTube subscribers. His second channel, CarryIsLive, focuses on gaming footage. Nagar is followed by more than 11.2 million people. His following enjoys his bright and distinctive Hindi commentary, which is what this Instagram influencer is most well-known for. On occasion, he posts images taken during the filming of his YouTube broadcasts and Instagram videos.
A professional Esports player from Mumbai, Maharashtra, India, Aditya Deepak Sawant is a social media influencer. He became well-known online as Dynamo Gaming after starting to upload PUBG Mobile gameplay videos to YouTube. He also formed and controls the "Hydra" clan in PUBG Mobile. His line "Patt Se Headshot" is the most well-known online. The Instagram gaming influencer from India who is colleagues with Hydra Alpha, FyzZeR, GYROOFICIAL, and H4RRY makes up a strong team. He performs the role of the clan's in-game leader. He presently ranks among India's top influencers in the PUBG Mobile, E-sports, and gaming industries.
Chetan Chandgude, better known as Kronten Pubg Gaming, was born, and brought up in a middle-class family in Pune, Maharashtra. The champion of the PUBG Esports contests and current owner of the YouTube Gold Play Button is Chetan aka Kronten.
Kronten began streaming PUBG gameplay over a month after creating his YouTube channel. He was one of four Indian video game makers invited to the first YouTube gaming creators conference, which took place in Palm Springs in Los Angeles, California, in the United States, together with BeastBoyShub, CarryisLive, and Dynamo.
Nischay Malhan is an influencer, gamer, and web developer from India who works in the gaming sector. Nischay Malhan works as a content producer for Squad Vitality India, a well-known French esports squad now headquartered in India.
Triggered Insaan, a YouTube channel with more than 16.6 million followers, is the name under which he is better known online. He broadcasts his gaming videos on a different channel called Live Insaan, which has more than 9.36 million subscribers.
Indian influencer and well-known gamer Ronak Makhodia. Ron Gaming is the name of his main YouTube channel, therefore everyone knows him better than anybody else. He is the proprietor of the thriving Eagle clan.
Shubham Saini, an Indian YouTuber, content creator, gamer, and influencer loves to play video games. Since BeastBoyShub is the name of his main YouTube channel, everyone is more familiar with him by that moniker. When Shubham Saini initially started playing video games, he played Counter-Strike: Global Offensive and VGA face cam. He is highly recognized in the gaming community for his skilled gaming prowess and amusing live commentary. He now plays a range of games.
Indian gamer and internet presenter Naman Mathur, often known online as Soul Mortal, is well-known. Mortal is the name of his YouTube channel, where he broadcasts online gaming, uploads gaming videos, and hosts more than 7 million viewers. He is the second most well-known player in India for the game, behind Dynamo, and the founder of the PUBG Mobile Team- Soul.
Referred to as "Gunshot" by his admirers. He is one of India's top YouTube gaming influencers and has over 254K subscribers.
He mostly concentrates on PUBG, and his channel has all the information on cheats and strategies for the game. He brought his channel wider to the audience with a new perspective of gaming.
Conclusion
Instagram's live function has increased the pleasure factor of gaming. Customers have been more amused than ever thanks to the interactive design and narrative filters.
We can observe via the diversity of these influences how quickly and successfully the game business is growing. Gaming industry is not that easy to tackle. But if you crack it, then it's a big success.
VavoDigital helps you to design your campaigns easily. Use influencer marketing tactics to grow your brand wide. If you have any query then contact us at hello@vavodigital.com