Top 7 Indian Memers on Twitter

Memes, reels, and sharing content on social media profiles are the best ways of promoting businesses in these domains. Today the memes industry is viewed as a reputable job that has a promising flow of income. Indian memers can charge upto 1.5 to 2 lakhs per post if they have a whooping 500k to 1M followers.

You can bet on us, more than 50 percent of your business comes from meme marketing as it attracts a lot of customers.

So as an influencer marketing agency in the market, we present to you the top 7 Indian memers you can't miss upon. Be it a small business or an MNC, the marketing runs on wit and humour.
Let's move ahead to know more about these Indian memers on twitter
1. Ramesh Srivats (4M followers)

A pioneer player of sarcasm and witness, Ramesh teaches you how one-liners can make you smirk. He mostly puts his interesting juice on sports, finance, and current affairs news.
The way of presenting serious grim news in a much funnier way is a god-gifted talent that he has gotten in his brain. Also the founder of a renowned company Ten Ten Ten, this is celebrity tweets are much-awaited on Twitter.
Visit his Twitter handle, and you'll know why we are talking about him.
2. Sorabh Pant (2.5M followers)

A standup comedian by profession and a hilarious memer of his 2.5 million society. This star started from scratch working as a writer in television shows to doing houseful comedy shows around the globe. His count of live shows has crossed 2000 in more than 100 cities around the world. @hankypanky as he is also known in the Twitter world is a die-hard fan of cricket and loves making memes on cricket news.
Visit this profile, and you will know why his followers love him so much!
3. Akshar Pathak (1.8M followers)

A whopping 1.8 million followers is a very big deal that doesn't happen in a day. This man is clever, funny, and amusing. His sarcasm is reflected in the mini punch liners, comeback jokes, and memes he prepares. You can not stand without laughing because Akshar Pathak will not let you down with his humor. His inner clown helps him connect to the masses which is not easy if you don't let yourself in their shoes. He knows his worth, so happens to tweet just twice a year. But believe us they are the most unique and mirthful ones.
Having a tough day, give this account a must-visit.
If you enjoy comedy, learning about these 10 comic influences in India would pique your interest. Read it here.
4. Gabbar Singh (1.4M followers) 

FOUNDER of @GingerMonkeyIN and CO- FOUNDER of @JoinHoodapp, this celebrity is a dark comedy star. You cannot stop your tears and laugh together.
In 2010, Abhishek Asthana known popularly as Gabbar Singh had the premonition of setting up a blog post about the movie Sholay. Ultimately he ended up setting up a whole Twitter account dedicated to this famous character, Gabbar Singh.
You can ignore world news, but you cannot ignore Gabbar putting up the news for you. One of the best memers in the market who definitely deserved a place in the ranking list.
5. Trendulkar (1.2M followers)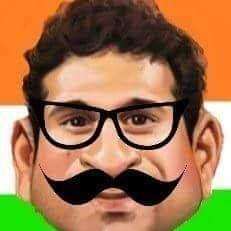 Trendulkar founder Apoorv Sood is a man connected to millions of hearts for his hilarious cricket memes. He has a whole different look to portray whatever is happening in the cricket industry.
He is a graduate engineer from Bits Pilani and is currently the most sought-after Sachin parody maker. As acclaimed by his followers, he is a meme star who prepares genuinely funny content to keep his followers busy retweeting.
6. Rofl Gandhi (754k followers)

India, politicians, and politics are a never-ending triad of love stories. Rofl Gandhi has got the nerve of it and never fails to make politicians follies into a funny travesty. His anecdotes and memes provide nerve-cracking relief from the stressful democratic environment in the country.
7. Rahul Roushan (437.4k followers) 

Known for his hilarious tweets and retweets on several trending topics floating in the news streams. A man of many traits. Started his career as a journalist, gained mathematics honors at his university, now a businessman and social media expert.
Rahul calls himself, "unbiased as any popular journalist" and doesn't flunk to present his opinions in the form of one-liners and memes.
Conclusion
Being a rapidly growing company in the field of Twitter influencer marketing, Vavo Digital has come a long way. Our goal is to make collaborations easier. We act as a strong bridge between the company and the desired influencer.
Our networks are far-reaching with varied groups of the audience waiting to be just yours. Want to know more in detail, don't let any query worry you. Just drop an email to hello@vavodigital.com and we shall be right back to you.