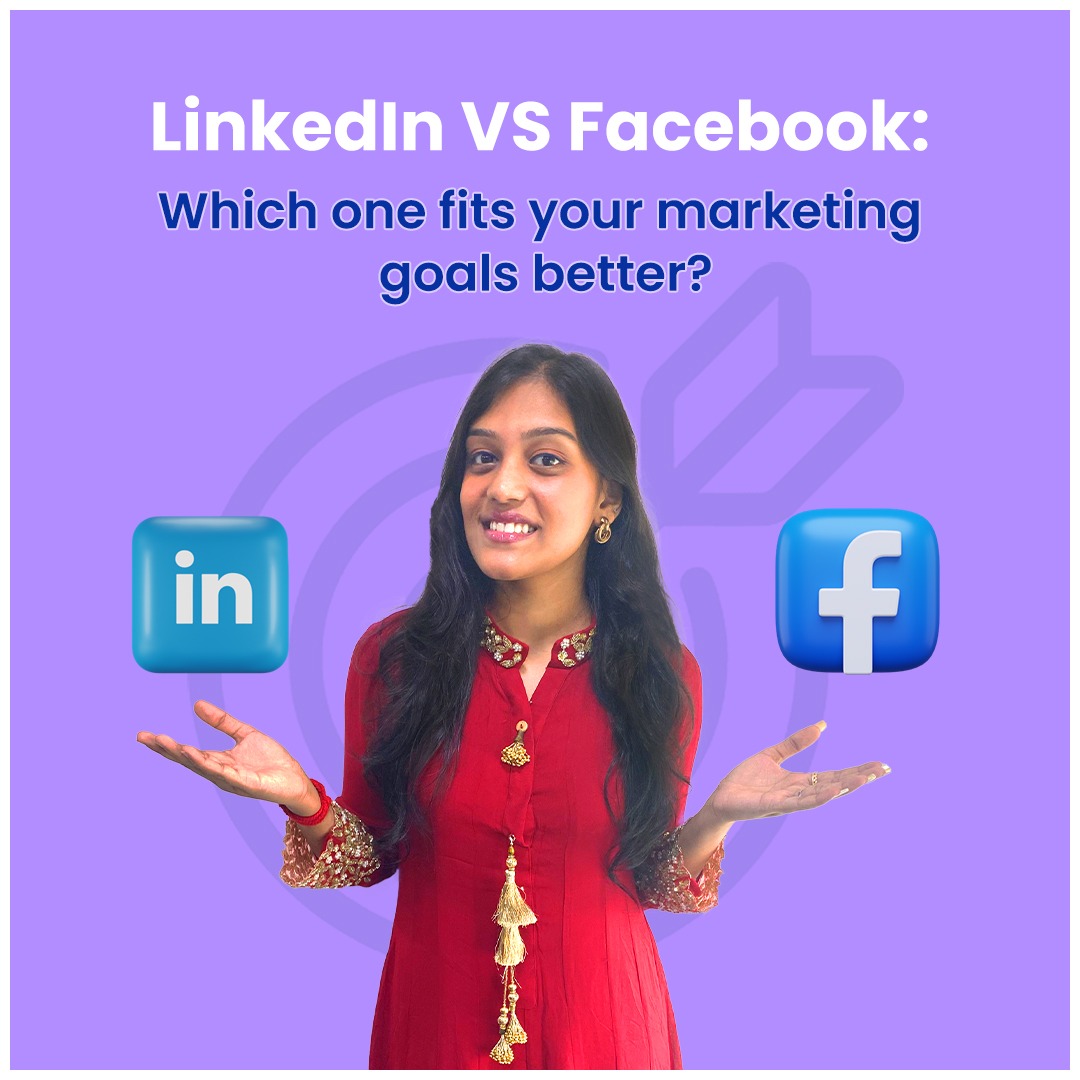 LinkedIn Vs Facebook: Which One Fits Your Marketing Goals Better?

Although many social media sites are available to today's social media marketers, each with its own set of advantages, Facebook and LinkedIn continue to be the most popular options.

However, you could also be troubled by such ideas while bouncing between LinkedIn and Facebook marketing:

Which platform is the top performer?

Which one offers the best ROI?

How to be sure not to waste time picking the Wrong one? Or is a combination of both the best choice?

That's enough to make even the savviest business entrepreneurs freeze up, regardless of their field. So it's time to settle the debate over whether you should use Facebook, LinkedIn, or both.

This blog will compare and contrast both platforms so you can make an informed decision based on your target audience and overall business objectives.
LinkedIn VS Facebook
LinkedIn is a business-oriented social network that began as a tool for large companies to find and hire qualified candidates. It has evolved to include functions once reserved for more established social networking sites, such as status updates, blogging tools, and personal messaging.
On the other hand, Facebook was intended to be a social networking platform where individuals could easily connect and exchange information and ideas. So although its primary selling point is the "sharing" function, many of its other features also help businesses contact their target audiences.
Facebook and LinkedIn marketing offer robust ad formats and a Groups feature that makes it easy to find and interact with others who share your interests—given their similarities, what sets them apart when it comes to practical applications for businesses?
Let's take a closer look at some of the most important features they provide for businesses.
LinkedIn's Value to Businesses
It's true that any of the most popular social media platforms would be ideal for launching and maintaining your brand's social media presence. However, each platform tilts more heavily toward a particular demographic, and so is LinkedIn.
1. Powerful B2B gateway
LinkedIn is the premier social media platform for business people of all hues. This makes it an ideal venue for businesses to promote their B2B offerings and for entrepreneurs to meet with other professionals in their field.
2.   High in searches
You can get your business name out there by ranking higher in Google and the platform's search engines.
3.   More business leads
LinkedIn increases the quality of your leads and establishes you as a go-to expert in your field. As a result, you can gain respect as a go-to expert and a leader in your field of thought.
4.   Meaningful interactions
You can also engage in fruitful professional interactions with people from other fields.
Facebook's Value to Business
One obvious advantage Facebook offers any business, regardless of its field, is access to a vast audience.
For marketers trying to spread the news about a new product, service, or deal, Facebook remains the platform of choice, with its whopping 2.89 billion monthly active users.
1.    Brand Recognition
It's a great way to get your name out there, join in on discussions that matter, and initiate meaningful connections with clients that can bring you success.
2.   Cutting costs 
Compared to other social media platforms, Facebook offers the most significant potential for cost savings in marketing.
3.   More specified audience
You can reach out to more focused audiences and diversify into new demographics. Customers will be more loyal to your brand if you target only the people most likely to buy from you.
4.   High traffic
Through paid and organic advertising, you can increase visits to your site, your blog's readership, and sales from your online store.
Marketers typically worry about using influencer-generated content from one platform to another. This article will give you a gist of the 7 strategies to reuse influencer-generated content.
Which Should Be Your Brand's Main Concern?
Although LinkedIn and Facebook have certain things in common, their intended uses and user bases are very different.
Here are some essential things to consider when choosing between Facebook and LinkedIn as your primary network for business marketing.
1. Ideal Target Audience– 
To run a successful social media marketing campaign, you must identify the platforms where your target audience is present.
Facebook has a user base of 2.8 billion people with a diverse mix of ages, with the most significant proportion of people between the age of 25-34. As a result, Facebook is an apt platform for B2B and B2C companies. Conversely, LinkedIn has roughly 64.7 million users, which is significantly fewer but still solid. But virtually all of its viewers are business people who want to network with others in their field, meet potential customers, or both.
This makes it a given for individuals who own B2B companies or want to utilize their preferred platform for networking.
2. Content Creation Goals-
It would be best if you also thought about how your business approaches content creation. For example, does your company rely on powerful images to make a point or catch a customer's eye? If so, Facebook is a superior option due to several factors. First, the platform and the users themselves initially greatly support content types like images and videos.
However, does your business prioritize exchanging information such as industry updates, B2B protocols, and extra expert insights? If so, LinkedIn is everything.
The typical LinkedIn user has nothing against excellent graphics or engaging videos but mainly utilizes the platform for professional content. Naturally, therefore, businesses that fill this demand.
3. Advertising Goals-
Businesses may choose from various advertising alternatives on LinkedIn and Facebook. However, you can be sure that all solutions are equally effective at delivering advertisements tailored to each user's preferences, value system, and platform usage.
But once more, you should think carefully about the exact results you hope to achieve with your next advertising effort. Again, LinkedIn is a better option if you're primarily trying to create serious business prospects and precisely target potential ad receivers based on factors like job title or industry. 
However, Facebook is a superior option if you want to increase your audience size and target consumers based on individualized factors like personality, personal hobbies, or life milestones.
Key takeaways
Both platforms have a potential goldmine for expanding your business. This blog will help you prioritize your marketing efforts so that you will yield the greatest return for your business.
Vavo Digital, one of India's leading influencer marketing agencies, acknowledges the significance of LinkedIn and Facebook on their audiences.
We are interested in finding out how influencer marketing campaigns for your brand. Feel free to contact us at hello@vavodigital.com, and we will respond as soon as possible.