How Luxury Brands Should Approach Influencer Marketing

Influencer marketing is becoming a crucial tool for companies to reach and interact with their target audience in the digital age. Luxury Brands, which are renowned for their exclusivity and status, have adopted this tactic to reach out to a larger audience.

Influencer marketing strategies for premium goods, however, call for delicacy and careful thought. This blog post will examine the practical applications of influencer marketing for luxury businesses and provide case studies that demonstrate its effectiveness.

Sehaye helps you to collaborate easily with influencers and brands. Take a step ahead use Sehaye to bring the smoothness in your influencer marketing campaigns. Influencers can find varieties of brands to work with and score higher visibility in social media platforms.

Instagram Is Fueling the Growth of Influencer Marketing

Although YouTube and blogs may have been the origin of the emergence of influencer marketing in the digital realm, Instagram is the true star of the show. With 700 million users globally and $1 billion in annual influencer marketing revenue that is expected to reach $2 billion by 2019, Instagram is the social media platform with the fastest growth since 2011.

Consumer view of luxury marketing is clearly changing as they embrace Instagram influencers for their perceived authenticity and voice while harboring a rising distrust for anything even remotely approaching advertising.

In fact, a record 92% of customers think they are more likely to believe a digital influencer's perspective than a commercial or a traditional celebrity endorsement.

Due to the power that influencers now have, luxury marketers must adapt to a new "breed" of influencers as well as customers and can no longer rely only on conventional modes of promotion.

To choose the right influencer for your brand you need to know about 7 important factors to consider to pick the right instagram influencers for your brand.
Best ways for Luxury Brands to use influencer marketing
The need for luxury brands to embrace influencer marketing
Luxury companies have been hesitant to engage in marketing. Instead of trying to fit in with other mass-market companies, they strive for exclusivity. They have unavoidably realized the advantages influencers may provide luxury companies. With the right partnership, your brand's message may be delivered effectively.
When luxury companies launch a new product or campaign, one of the best ways to reach your target demographic is by enlisting a celebrity influencer.
Apple collaborated with renowned individual iJustine to promote the Apple Watch. They intended to increase public awareness of their premium product through a mid-tier influencer. The firm was helped by the influencer to execute a successful unpacking campaign. She garnered more than 23k likes and more than half a million views.
Why Should Luxury Brands Collaborate with Influencers?
Out of sight, out of memory is a cliche. Luxury firms should cooperate with influencers as they may use well-known celeb influencers as an extension of their brand's identity. A strong top influencer might offer the company a more specialized and luxurious look. Although luxury goods are desired, people must be aware of them to have such ambitions.
Influencers may help luxury companies creatively remind customers of their existence. Due to the influencers' large following, they can communicate and engage with all of their potential customers who would have otherwise passed by their banner and display adverts.
The luxury industry grabbed news thanks to Dior's hashtag-driven #DiorLoveChain campaign. the campaign substantially benefited from the inclusion of both traditional superstars and micro-influencers.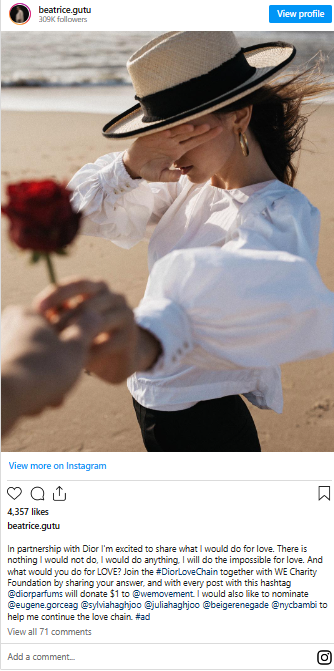 It's more crucial to be relevant than Reach
Relevance is essential to the effectiveness of influencer marketing. It's crucial to connect with the target market for your goods. Additionally, you may accomplish this by using influencers to sway consumer choices on social media sites where your target audience is most active.
You'll waste your money and not see the results you were hoping for if you pick the incorrect influencers or platform. Your efforts will be wasted on a disinterested audience.
As a result, you must run campaigns on a social media channel that your target demographic is most likely to utilize. Facebook may have the largest user population, but that doesn't always mean it's the best platform for your company.
Finding the Right Influencers is Important for Luxury Brands
The prevalent opinion is that premium brand purchasers are hard to persuade. For premium businesses, analyzing and screening internet influencers is essential.
Does the influencer have the correct kind of followers—those who might buy from your company—in the future? Can they successfully captivate the audience you're trying to reach?
40% of respondents, according to a survey, believe that mid-tier influencers are ideal for premium businesses. However, a closer examination of the data reveals that 17% of respondents think that top-tier or alpha influencers benefit premium businesses the most.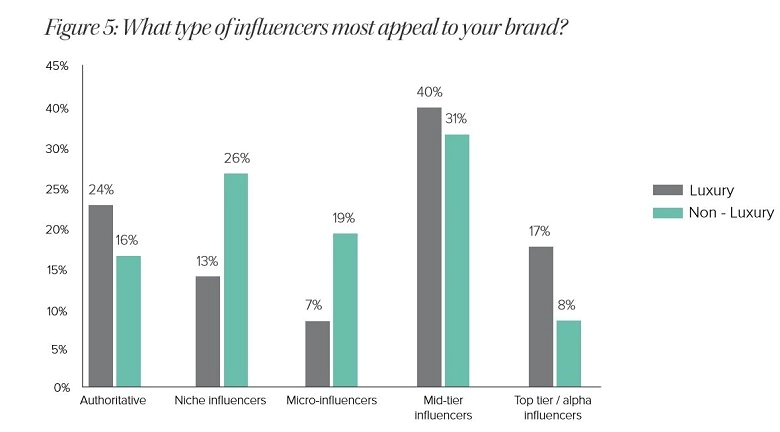 Conclusion
Influencer marketing has only one direction to go: up. The chance for luxury brands to discover a genuine method of connecting with new target audiences throughout the world is enormous. Luxury firms need to keep in mind that high-quality content is the important thing to consider, not necessarily reach, since influencer marketing expenses are expected to climb. The capacity of luxury brands to choose the correct mix of collaborations to produce fresh, fascinating, and real content will be important to maintaining status and a sense of luxury within the context of social media.
Vavo Digital supports you in your influencer marketing journey. If you have any query then just contact at hello@vavodigital.com