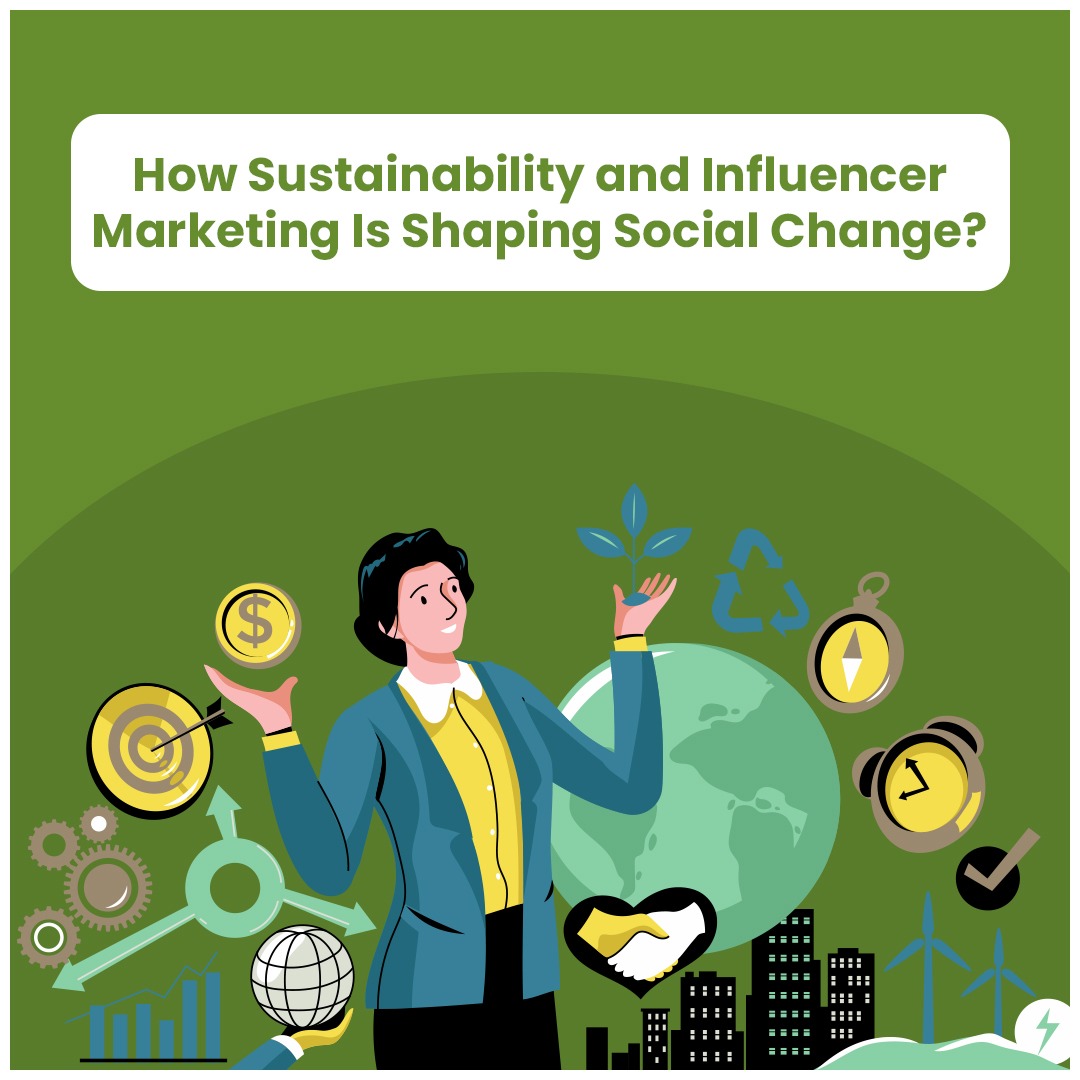 How Sustainability and Influencer Marketing Is Shaping Social Change?

Do you ever wonder what happens to influencer marketing if there will be no sustainability? CRISIS! Yes, sustainability and influencer marketing go hand in hand when it comes to the success of either of them.

Influencers rely on authentic and useful products to promote that establish transparency on all terms. Today we cannot ignore how important these two are for shaping society so that more people can become aware of the eco-friendly environment at the same time.

To spark more intrigue for you, 90% of marketers are now finding influencers to be a great source to fetch a decent return on investment. We are going to take a look at this relationship from a different perspective for you. So let's cut to the chase!
Fake Has No Room Among Us!
If you have been thinking that your target audience will buy blindly from you then you are wrong. This is not the case today. Your audience is going to scrutinize your products and services.
Therefore, being honest with them is a great deal now. People are now more concerned about their money. Your brand won't stand a chance if your audience finds anything suspicious.
However, through social media awareness and online education about sustainability, people are more likely to buy from such brands and the numbers go up to 67%. So if you are a brand that produces sustainable goods, then you have a bright future.
Don't Underestimate Eco Power for Branding
If we compare modern branding to the former methods, we will see a huge difference. It is because today brands know how much sustainability matters. Plus, they are also well aware to contribute to it by collaborating with influencers.
The trend of sustainability has touched the hearts of these marketers and they are re-shaping their strategies to a large extent for this purpose. Also if we talk about the influencers, they also know that there is more to just a "paid partnership" and they still can take part in making the environment more sustainable by collaborating with such brands.
Brands Breaking The Barriers: Adidas x Parley
Credits: Dazed
We don't make baseless claims here. We are going to justify the results, driven out of collaborations of influencer marketing and sustainable brands with a fine example. Have you ever bought from Adidas? Oh, wait you have? Then you will be happy to know about this.
Adidas collaborated with the environmental organisation Parley for the Oceans in 2015. Their ambition was to transform marine pollution into sportswear. And they've made tremendous progress.
Adidas produced 11 million pairs of shoes made from recycled ocean plastic 11 million pairs of shoes made from recycled ocean plastic in 2019. That is more than double the amount earned in 2018. According to Adidas, the collaboration has averted 2,810 tonnes of trash from entering the waters.
Now, take some notes from Adidas for strengthening your Brand loyalty game. For this reason, you can always rely on influencer marketing in building brand loyalty without any mismanagement.
It's Time for Influencer Content To Go Green!
There can be nothing more incredible than to see this happening. Your favorite influencer endorsing sustainability by using their voice and capabilities. In this way, they will not only be able to promote a brand.
But also will make their audience more educated about the importance of sustainability. After 2019, when COVID was haunting us, influencers started to collaborate with health-conscious and eco-friendly brands for their sustainable products.
Now it's obvious that influencers and sustainability depend on each other and play their individual roles in societal change.
SEHAYE Has The Right Influencer For You!
Hang on a second, what is SEHAYE? It is a Vavo Digital product. A full-range mobile application that helps you explore your options for finding influencers. Makes your collaborations, meetings, and project discussions easier. Trust us when we say this, it has helped thousands of our customers with their influencer hunt and saved their time. Your time is precious too and you are running out of time! Download SEHAYE and join the club today!
Rounding Up
We should know that we as marketers cannot spoil our atmosphere anymore. As vegan foods are now getting more common. Brands are shifting to sustainable and conscious products. See paper bags, bamboo toothbrushes, reusable water bottles, and whatnot! When you can enjoy the perks of a sustainable item, then why not use it? Or we should say why not endorse it through influencer marketing?
We present you Vavo Digital – an influencer marketing agency that knows you cannot survive without sustainable products. Therefore, we help eco-friendly brands like yours to achieve your goals through influencer marketing without compromising mother nature at all. So call it quits on your thinking spree and let us introduce you to a perfect influencer that fits your brand. Drop us a line at hello@vavodigital.com!