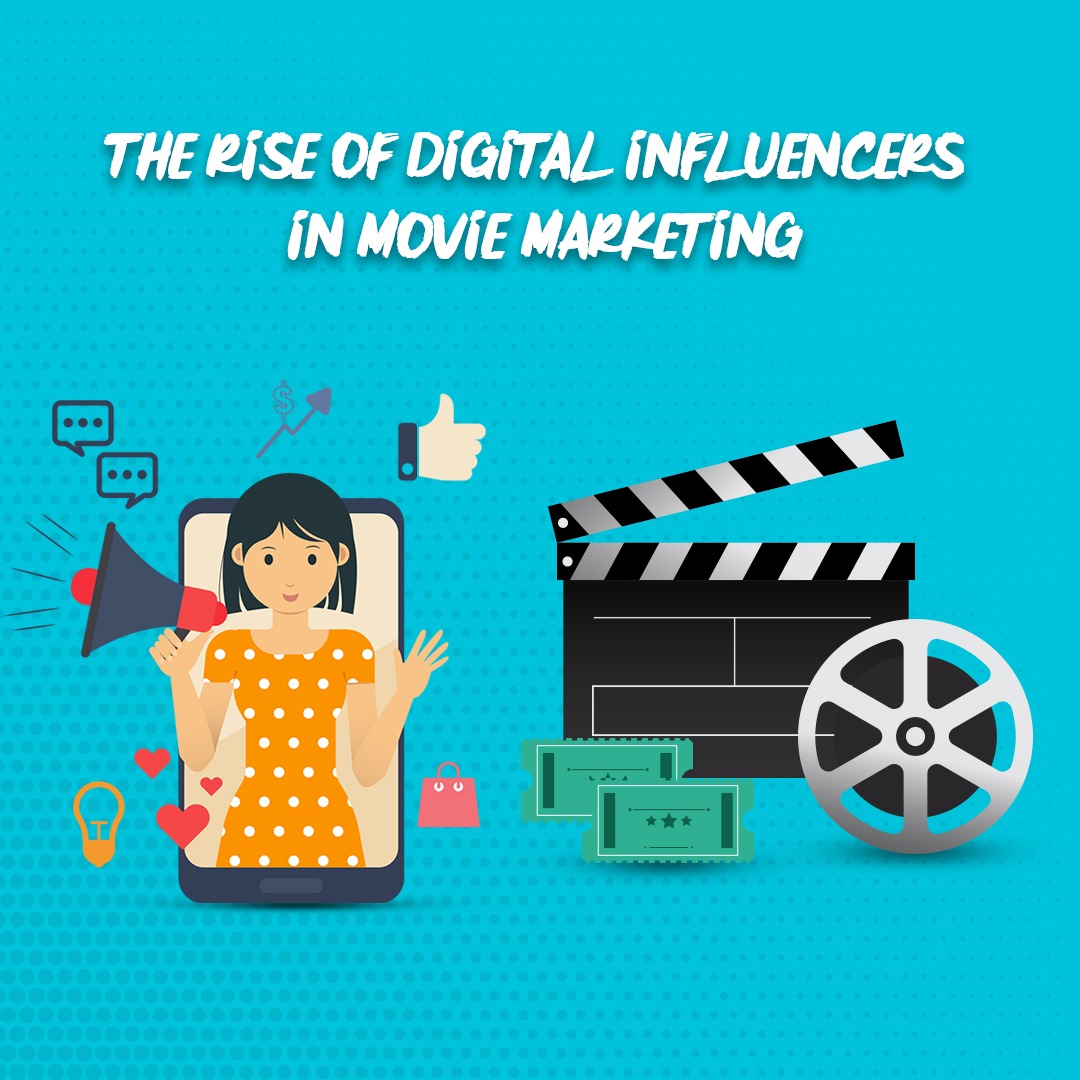 The Rise of Digital Influencers in Movie Marketing

About a decade ago, people consulted magazines and newspapers for recommendations on what to read, watch, and listen to. Nowadays, whenever you ask someone where they heard about a particular movie or show, the response is almost always social media. Today, social media dialogue is a crucial aspect that shapes  public opinion, which implies that influencers play a significant role in the popularity of films and television shows. As a result, influencer marketing has become very important for any type of  film or television series promotion.  

In this article, we will explore ​why  the movie industry is such a good fit for influencer marketing and how you can leverage social media influencers to make your next hit the talk of the town. 

The Relationship Between Social Media and the Film Industry 

Traditional media such as the written press, television, and radio continue to play an essential role in generating publicity for film and television projects. However, the general public no longer blindly believes these reviews. Then again, opinions from individuals we don't know hold little to no value. 

When someone we know expresses their feelings about a film or series on social media, it feels more authentic. Influencers appear to be very trustworthy because they are often autonomous with unique insights that are specific to what their target audience seeks. 

Furthermore, there is typically a great deal of engagement between influencers and their followers. Followers can respond to a specific post or ask a question and usually receive a personal response. This strategy frequently gives viewers the impression that they are personally connected to a particular movie or TV show, making them more likely to watch it. 
Influencers At The Front and Centre of Movie Marketing 
A solid social media strategy is essential for getting people to the cinema. Influencers are crucial as they can create immense online buzz and bring a particular movie or series into the limelight. Compared to traditional reporters, many influencers have a vast and growing following, and even one Instagram post or tweet can reach thousands of prospective viewers. When an influencer speaks, their followers sit up and take notice because they respect and admire their views and opinions and will always jump at the chance to offer their two cents.
In addition, consider influencers from outside the film industry, especially people who seamlessly fit into the film or series. If the influencer and the film are a good fit, the movie will probably appeal to their audience. For instance, if a movie's theme or mood aligns well with the influencer's image, the influencer can bring attention to the film sincerely and credibly. 
How To Utilise Influencers To Promote Your Next Release 
You can collaborate with influencers in several ways to market your most recent movie or television show. What matters most is that the relationship between your work and an influencer appears and feels natural, particularly to your target audience. Here are some ideas to implement in your next movie marketing campaign: 
Gift Hampers 
Generate buzz for the release of your movie with the ultimate movie gift basket. Add some details about your film, some souvenirs, and, of course, some delicious goodies. You should also include a hashtag in your letter for the influencers to post with so that you can track who is posting about the movie as it acquires traction online. 
Invites to the Movie Premier 
There is always a significant amount of coverage surrounding a movie premiere or event, so why not enlist the help of a few influencers to aid with marketing? Let your influencers meet the actors, put them up in a posh hotel, and make them walk the red carpet. The influencer would post their entire experience on social media to get their fans involved and thrilled about the film. 
Host Competitions With Exciting Prices 
Everyone enjoys healthy competition, which is an excellent way to advertise your studio's latest film. Give your audience the opportunity to win a VIP session with the influencer, a meet and greet with the cast, or cinema tickets if they engage with the post by liking and sharing. These incentives will make your movie widely talked about across social media. 
Involve Your Audience in Content Generation 
Find strategies to get online users to create content with your influencer to generate buzz and spread the word about your film or series. The more involved your audience can be, the better. For instance, before the release of Liger, the hashtags #VaatLagaDenge, #AakdiPakdi, #ILoveYouLiger, and #Aafat went viral on social media as the makers of Liger urged netizens to be a part of their film and be featured on the production house's social media profile.
The Final Word 
As the importance of social media grows, influencer marketing is becoming a vital method of reaching the audience and promoting films or television shows. Influencers typically have a strong sense of authenticity and can generate great additional content relevant to the movie. 
Vavo Digital can help you find the right influencers for your next movie marketing campaign in order to reach a large target audience. Schedule a consultation and get started today. 
Note: All images used are for descriptive purposes only. The original rights belong to the owner.