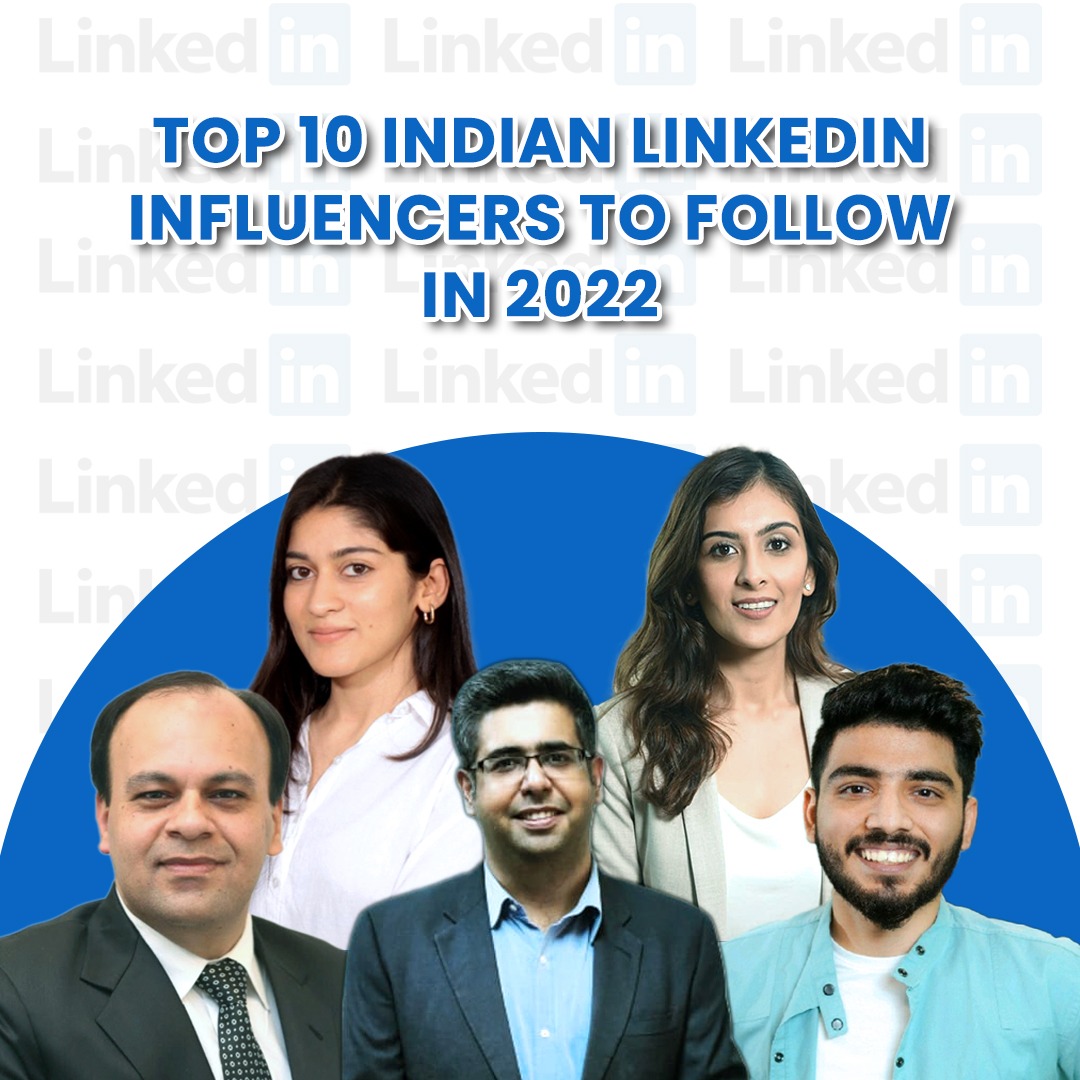 Top 10 Indian LinkedIn Influencers to Follow in 2022

LinkedIn is the ideal way to connect with an exclusive group of business executives and professionals. LinkedIn is regarded as the top social media network for lead generation with a unique audience.

The pandemic caused an upsurge in traffic to LinkedIn, and that momentum has continued with brands growing more invested in engaging stakeholders, as are the platform's influencers. By producing great, informative content, LinkedIn influencers are rapidly gaining popularity as people don't want to miss out on any opportunities to benefit from their content.

Here is a comprehensive guide to the top LinkedIn influencers in India: 
Priyank Ahuja– Product Leader at Accenture 
Priyank Ahuja has more than 14 years of experience in management consulting, marketing strategy, and product management across various industries, from IT and Edtech to Real Estate. 
He is also a renowned mentor, coach, keynote speaker, and visiting faculty member at leading business schools. On Linkedin, he has 120K+ followers and discusses how to ace interviews, land a career you excel in, and provides management consulting tips. 
Krati Agarwal– Founder & CEO at Markrating Cafe
Krati Aggarwal is the true embodiment of a multifaceted woman. She is an IIT alum who started her career as a software engineer, pivoted to working as a social media expert, and is now an entrepreneur. Her company, Markrating Cafe, provides brands with 360-degree solutions in online marketing and business growth. 
Krati has built a fantastic community of 133K+ followers on LinkedIn and shares content on how to grow your business with efficient and frugal digital marketing strategies. 
Sampark Sachdeva– Founder & CEO at SamparkSeSampark
After 12 years of working in sales and marketing with the country's leading companies, Sampark decided to share his knowledge with the world through his startup, SamparkSeSampark, a one-stop solution for corporate training, career mentoring, and developing a personal brand. 
Aside from work, he enjoys writing and coaching. His 2000+ LinkedIn postings have received over 75 million views, resulting in more than 95K+ followers. Sampark was also included in the 2019 LinkedIn Spotlight list and is a part of the LinkedIn Creator Accelerator Program 2022. 
Vedika Bhaia– Founder at The Fourth Square
Vedika Bhai is an aspiring founder of The Fourth Square, which offers social media marketing, content marketing, and LinkedIn marketing services. She also specializes in assisting entrepreneurs in leveraging their personal brands on Twitter, Instagram, and LinkedIn for their business. 
Her in-depth knowledge of personal branding, digital marketing, and garnering valuable leads through social media marketing has resulted in her growing a following of 108k+ on LinkedIn. 
Pranjal Podar– Social Media Consultant at EPNS 
Pranjal is fully versed in everything social media due to his varied experience with multiple platforms. He was a Youtuber with his channel K Bye in college, a digital influencer with an Instagram page Jugaad pe Swaad, a copywriter at Nielsen, a creative strategist at WLDD, and now a social media consultant at EPNS. 
On LinkedIn, he has 72K+ followers and talks extensively about content creation, content strategy, and how you can utilize memes to make your brand the talk of the internet. 
Neha Puri– Founder & CEO at VavoDigital  
Neha is a serial entrepreneur and founded her first startup at the young age of 24. After two successful ventures, she is now the CEO of her company, Vavo Digital, a tech-enabled influencer marketing platform that seamlessly connects brands with an array of influencers across different genres, categories, and platforms. 
In addition to dedicating herself to growing her company, she also finds time to share valuable insights with her community of 87k+ followers on LinkedIn on entrepreneurship, startups, marketing, and branding. 
Uttam Gupta– Founding Member & Growth Marketing Manager at Unschool 
Uttam Gupta refers to himself as "The Growth Guy" because of his passion for building things from nothing to something by targeting marketing and growth strategies. He played a crucial role in building Growth School from ground zero to 200,000 learners in just 15 months. 
When he is not growing businesses, you can find him delivering motivational keynote speeches at multiple colleges and conferences. He has also previously given an inspiring speech at the LinkedIn Creator Talks. 
Punita Parekh– Content Marketer & Personal Branding Expert
Punita Parekh is a seasoned media professional with more than 10 years of experience, with a focus on broadcast media in content marketing and brand storytelling, where she provided specialized and integrated solutions for businesses across various industries.  
She is now an independent content marketer and a mentor to aspiring marketers on LinkedIn. She shares content on storytelling, personal brand building, and community building with her 55k+ followers. 
Avelo Roy– Managing Director & Startup Mentor at Kolkata Ventures 
Avelo Roy is a tech entrepreneur, investor, four-time speaker at the TEDx conference, and TV host who founded his first business venture at 19 with patented technology and built it into a million-dollar business by the time he was 22. With years of experience building successful businesses, his mentorship at Kolkata Ventures has resulted in 400+ revenue-generating startups.  
As the great great grandson of Sarojini Naidu and an influential youth icon who holds a passion for knowledge sharing, Avelo Roy has over 26K+ followers on Linkedin. 
 Unnati Bagga– Organic Growth Specialist 
Unnati Bagga is an organic growth specialist, helping brands generate relevant leads, social media marketing, and specific growth hacks. She works primarily with platforms like Pinterest, Quora, Reddit, and LinkedIn for organic growth. 
She is insightful on LinkedIn, providing her approximately 43k followers with tips and tricks on freelancing, copywriting, and social media marketing for optimized growth. 
Final Thoughts 
All of these LinkedIn influencers have demonstrated a great ability to transform their creativity into actionable insights. All of them have profound knowledge and understanding with respect to their field. In short, they are the thought leaders.
If you want to leverage these LinkedIn influencers to grow your network and brand, schedule a consultation with us today. 
Also read: 5 Ways To Become A Prominent LinkedIn Influencer
Note: All images used are for descriptive purposes only. All rights belong to the owner.