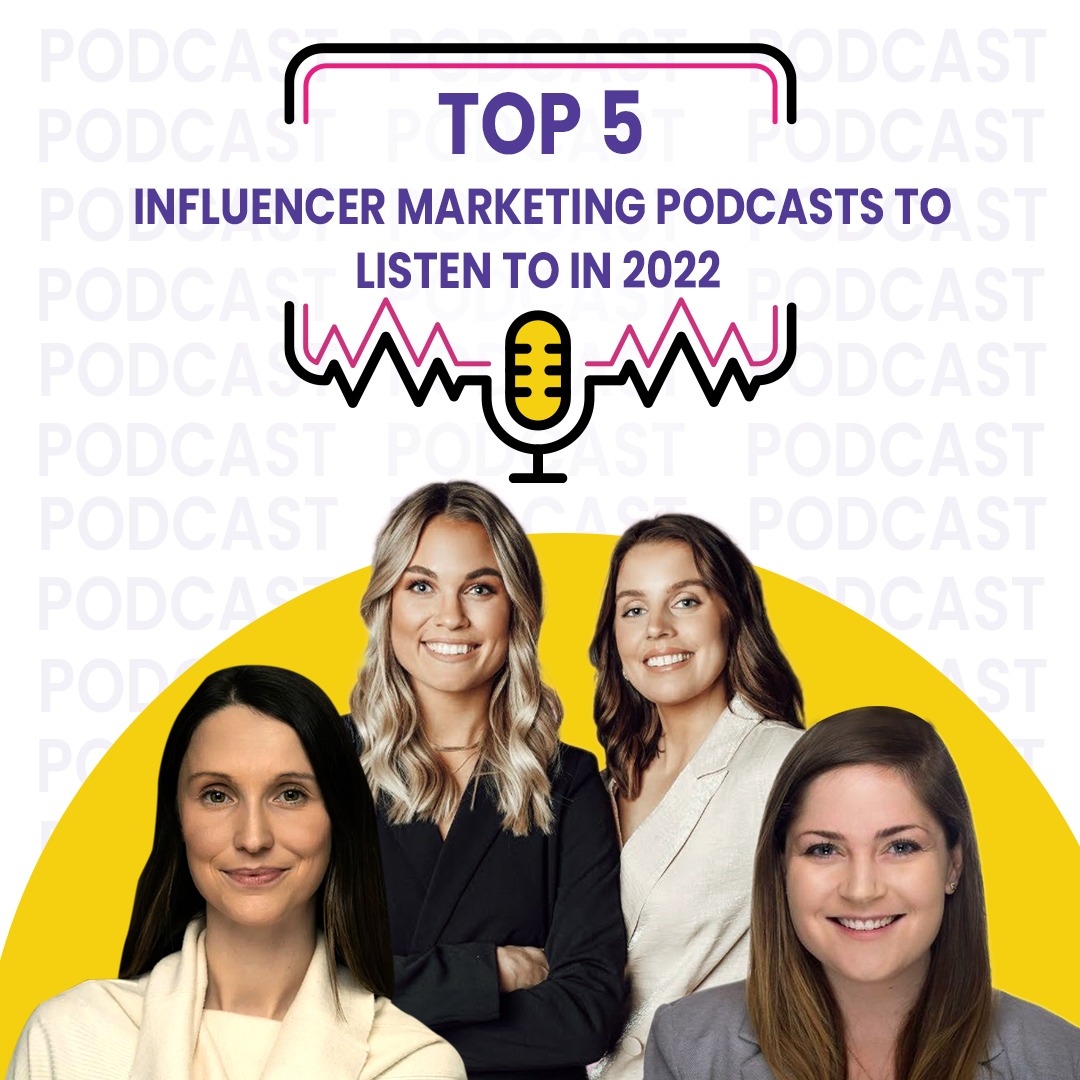 Top 5 Influencer Marketing Podcasts To Listen To In 2022

Over the previous ten years, podcasts have gained enormous popularity, and by the end of 2022, there will likely be 424.2 million listeners worldwide (as per the report by Insider Intelligence) Today, there is likely a podcast to suit your tastes, whether you enjoy true crime stories or just want a summary of the day's headlines. More particular, many business gurus now use podcasts to disseminate their knowledge and experience. Many business titans have adopted the instructional podcast craze as influencer marketing takes center stage in every marketer's playbook.

But first, let's begin with the fundamentals. What is a podcast?

A podcast is a compilation of episodes that are typically organised around a single or group of related themes. They are often hosted by a podcast hosting firm and employ audio files. As a result, it's simple for listeners to subscribe to them and receive notifications whenever a new episode is released.
Who listens to podcasts and why do they listen?
Monthly podcast listenership is almost evenly split between men and women, with 43% males and 39% women, according to the most recent survey from Edison Research and Triton Digital[1].
However, younger audiences continue to make up a larger portion of podcast listeners, with more than half of monthly listeners falling between the ages of 12 and 34. Although just 26% of podcast listeners are 55 or older, this age group is expanding at the quickest rate.
Here is what respondents said when asked why they enjoy listening to podcasts:
74% wish to expand their knowledge.
71% want to be entertained.
60% are interested in staying current with news and subjects.
51% listen to unwind, 47% to be inspired.
These driving forces are what keep podcast listeners interested and entice them to anticipate new episodes.
We've compiled a list of 5 influencer marketing podcasts to give you additional information about the field. We guarantee you'll discover something worthwhile.
1. Blogosphere: Serious Influence (UK)
3 Episodes/month
Average length 47 min
Started August 2018
Blogosphere: Serious Influence is a podcast that focuses exclusively on the commercial viability of the influencer market. The series, which is hosted by Blogosphere, a media firm with a prominent presence in the world of influencers, comprises interviews with influencer marketing specialists, brands, and influencers themselves. Former cover stars of Blogosphere's print journal include Casey Neistat and Zoella.
2. The Influencer Podcast (USA)
1 Episode/month
Average length 31 min
Started April 2017
The Influencer Program is a ground-breaking podcast that examines the factors behind the constantly evolving trends in influencer marketing and the lives of the most prominent social influencers in the world today. Julie conducts interviews with some of the most knowledgeable individuals in the field who offer their insights, advice, and solutions to some of your most pressing problems about online business marketing.
3. Women in influencer marketing (USA)
1 Episode/week
Average length 47 min
Started November 2018
Women in Influencer Marketing (WIIM) is an exclusive networking group for female professionals in the field of influencer marketing. The podcast provides new and frank viewpoints on trending subjects, ad trends, and how to succeed as a woman in business.
4. Influencer Marketing (South Africa)
1 Episode/week
Average length 36 min
Started November 2017
The Influencer Marketing podcast is produced by Nflu#ntial, a strategic consulting firm that specialises in creating influencer marketing strategies for businesses to boost recognition, brand loyalty, and reputations. The interactive podcast includes interviews with consumers, influencers, and marketers. 
5. Influencer marketing talks (UK)
1 Episode/week
Average length 24 mins
Leading European influencer marketing company Cure Media works with fashion brands. Their monthly 15-minute podcast, Influencer Marketing Talks, aims to increase listeners' awareness of the effectiveness of influencer marketing in fostering audience trust. Digital marketing and social media are the issues that are covered by hosts and knowledgeable guests.
Bottom Line
These examples will show you that a successful podcast can take many different forms. An episode can be released once a week, once a month, or several times a year. The duration of your podcast will depend on your audience, the type of material you are producing, the amount of time and money you have available, as well as your podcasting objectives. 15, 30, 45, or 60 minutes are all viable options.
There are many podcasting platforms available that can assist you in creating, editing, and publishing your own audio recordings. If you have the money, you can also hire someone to do all of that for you. One of the benefits of this format is how adaptable it is. However you decide to go about it, just like any other method of  marketing it's important to have a clear strategy and defined goals.
Get in touch with us if you'd like to discuss how to include podcasting in your influencer marketing plan. Contact us here 
Note: All images used are for descriptive purposes only, original rights belongs to the owner