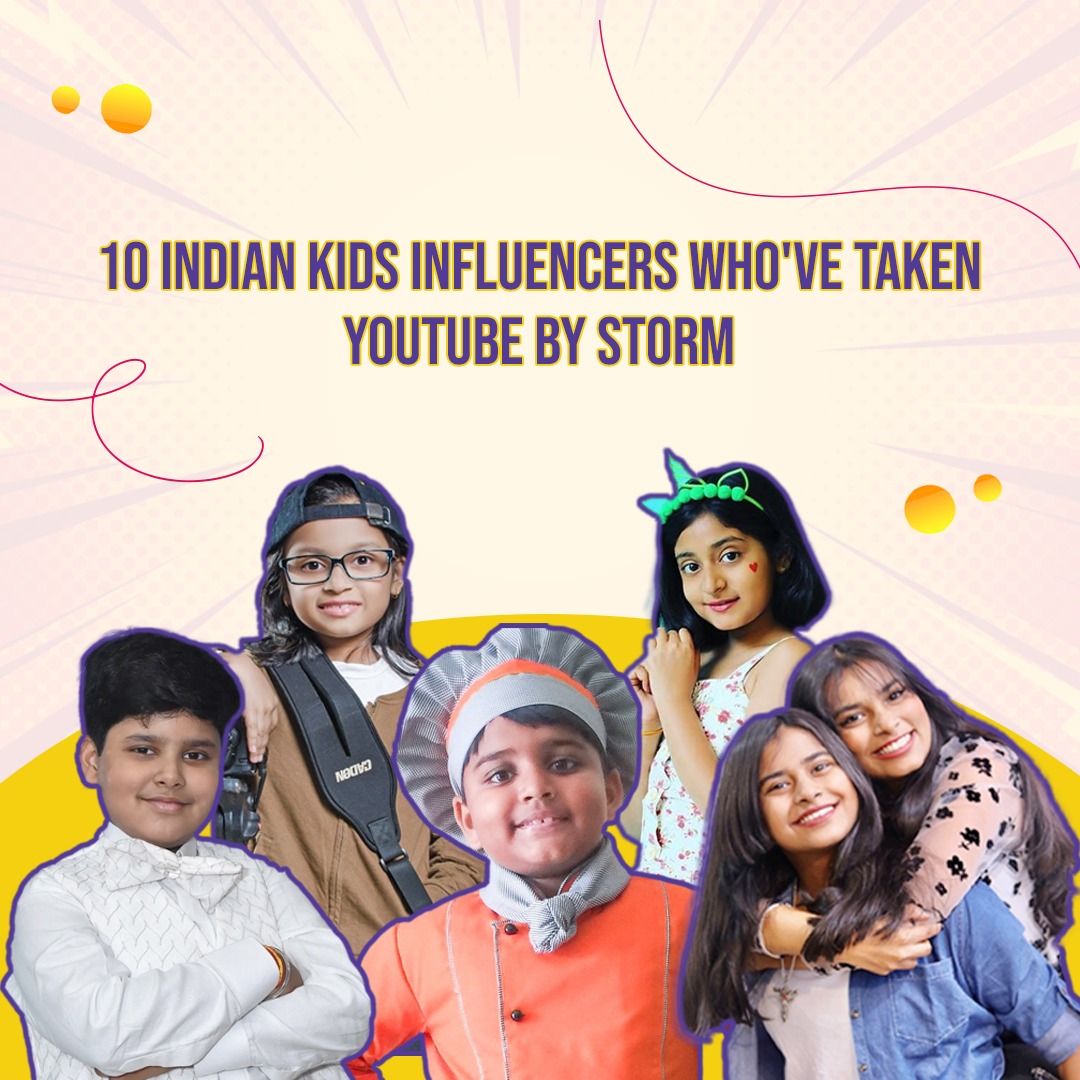 10 Indian Kids Influencers Who've Taken YouTube By Storm

YouTube has given a platform to all, so why shouldn't the kids of this generation utilize its full potential too? 

Influencer marketing is advancing at a higher pace, allowing thousands of creative 'keedas' at home to become independent. From fashion DIY hacks to fun cooking videos, the kid community on YouTube has it all! All they require is a little help from their parents, and boom—they create stories worth telling!

Kid influencers are presenting themselves as role models to children worldwide through their extremely relatable and engaging videos. The videos are not only engaging and captivating but also motivating. Want to know more about the little stars shining on YouTube? Here's a list showing the top 10 most followed kid influencers in India
Anantya Anand :  Some may know Anantya as the top most subscribed female YouTuber in India whereas others might know her through her hit song Yeh Sapne Mere . Nonetheless, Anantya is already a household name! Anantya began her journey to entertain the youth through her YouTube channel, which has now garnered over 13 million subscribers. Her channel mainly focuses on fun challenge videos, comedy sketches, daily vlogs as well as tons and tons of DIY life hacks! Don't forget to check out her YouTube channel for some daily dose of innocent laughter!
KichaTubeHD : Meet Little Chef Kicha – the youngest Indian to appear on an American talk show. After uploading plenty of cooking videos on YouTube, Kicha was invited to The Ellen Show, where he got Ellen DeGeneres to say "Puttu Kutti" on national television! Nihal is a little kid with numerous talents! Kicha, at the age of 10, not only cooks exemplary dishes but also creates easy-to-follow DIYs, available on his YouTube page. His channel is filled with extraordinary cuisine, something that looks straight out of Masterchef!  Next time if you're stuck deciding what type of toy is suitable for your kid? Make sure to check out the amazing and thorough toy reviews on Kichatube!
AayuandPihuShow : A family channel that has been entertaining the kids since 2017, Aayu and Pihu show is a perfect way to educate your children but in a fun way! They have over 15 million active subscribers on YouTube and over 110K followers on Instagram. Their short sketches are not only considered educational but also thought-provoking. One can see fun recipes, exciting challenges and comic interactions between the two siblings through their daily lifestyle vlogs! 
Pari:  With the support of over 11 million fans, Pari's Lifestyle is all about fun, Masti and entertainment! Pari, with her sassy personality and humorous sketches, does an amazing job engaging kids through moral-based stories and exciting challenges with her parents. 
Kyra : She is young, she is curious and most of all, her love for toys is enormous! Kyra is a little kid influencer with a following of 21K subscribers. In addition to toy reviews, Kyra also has her own Podcast, where she educates young children about our heritage. Her channel is the perfect way to strengthen your child's knowledge as well as increase their curiosity! 
Wondering if she's the inspiration behind India's first virtual influencer!! Ever heard about virtual influencers? No worries, check this out: India's First Virtual Influencer Kyra is Becoming Gen-Z's Favourite!
Cute Sisters : Jinwai and Dhwani, the two masterminds behind Cute sisters are in real life the cutest pack of siblings on YouTube! They create short moral-based stories, and funny videos as well as engage their audiences in fun activities. Cute sisters are immensely followed on YouTube with garnering over a million subscribers. They're often seen pranking their parents and making extremely hilarious challenge videos. So if you're ever in the mood to laugh, check out cute sisters on YouTube! 
Ayu and Anu- Twin sisters : Ayu and Anu, YouTube's favourite twin sisters, provide daily laughs through their sketches. Their channel is filled with thousands of light-hearted comedy videos and extremely entertaining dares. Besides all the challenges, the twin sisters are also known for their high-quality production of short stories. They share their views on important issues revolving around "girl power", "wasting food" etc.
With over 700K subscribers Ayu and Anu are on their way to reaching a million subscriber count soon!
Jayas Kumar:  After garnering huge success in SaReGaMaPa, a hit reality TV singing show, Jayas started creating content on YouTube. He sure did take the world by storm through his melodious and heartwarming singing skills. His fan following ranges over 3 million with his channel receiving over 100K views. Jayas is the literal definition of "chota packet bada dhamaka"
Aanya Joshi: Aanya is definitely an all-rounder with her YouTube videos expanding on topics like- dancing, singing, acting and creating craft! Her channel consists of DIY hacks videos and Bollywood song covers. Aanya can act, sing, dance and play instruments at the age of just 5!
Wonder girl Ayat : Emerging as a young pop sensation, Ayat started uploading on YouTube after trying her luck on  The Voice Kids. Ayat is truly a wonderful girl with her channel surrounding topics like song covers and Bollywood impressions.
Gradually she is on the way to being the next Neha Kakkar!
These children are constantly utilizing YouTube to its fullest capacity- by showcasing their talents and making their presence known in the world! 
Influencer marketing is set to only grow in the coming years. Kids influencers have started to create a viable as well as a stable career option for themselves and an innovative marketing strategy for many businesses! 
Want to be dazzled by their creativity? Be sure to check out their social media platforms!!
Also Read: 10 gaming YouTubers in India you need to watch out for in 2022
Note: The image used is for descriptive purposes only, all rights belong to the owner